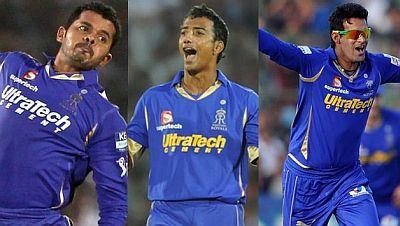 The invoking of the Maharashtra Control of Organised Crime Act in the spot-fixing case has taken it a step closer to terrorism, reports Vicky Nanjappa.
The Delhi police, while booking Sreesanth, Ajit Chandila, Ankeet Chauvan and 23 others under the MCOCA's provisions, has stated that notorious underworld dons Dawood Ibrahim and Chota Shakeel were involved in this case.
Delhi police sources told rediff.com that while the three cricketers are not being linked to abetting terrorism, there is ample evidence to show that those managing the show were routing some part of the money for terror-related activities.
Terrorism has its funding from various sources, which include drug trade, counterfeit currency and also smuggling of arms and ammunition.
Since the past couple of years, there have been ample indications that the money derived from betting is also being pumped into terror-related activities. The money earned through betting -- be it in cricket or even horse racing -- amounts to over Rs 40,000 crore per annum.
The major share of the market is controlled by the D Company of underworld don Dawood Ibrahim which is under the mercy of Pakistani spy agency Inter Services Intelligence that has been providing them shelter.
There is an unwritten understanding between the D gang and the ISI that 40 per cent of its earnings should go towards terror activities against India.
Dawood Ibrahim's annual profit from cricket is estimated to be around Rs 8,000 crore after recovering whatever he has thrown into the market, which includes initial betting costs and also fixing money.
Apart from this he earns over Rs 10,000 crore through drugs and arms smuggling, Rs 5,000 crore from his adulterated oil business, Rs 2,000 crore through silk trade in China and around Rs 500 crore through the stock market in India.
When compared to all his other activities, cricket betting is considered to be the safest. There is only 10 per cent chance of the persons getting caught, and the fact that they always rope in big names to fix matches very often acts as a shield from the police.
The latest money trails have indicated that money from cricket betting has been used to fund the setting up of Lashkar-e-Tayiba camps in Thailand and Singapore.
Delhi police sources further say that the reason for bringing the cricketers under the stringent provisions of MCOCA is because they had abetted a major crime which was carried out through an organised syndicate. Their actions in abetting such a crime is not an ordinary one and has far-reaching effects on the internal security of the country, since the money earned is being used for anti-national activities.
Under MCOCA, confession before a police official is admissible in court provided it is made before an officer above the rank of a deputy commissioner of police. In this case, Delhi Police Commissioner Neeraj Kumar was himself present when the accused's confession was being made.
This is the same provision that the police have used against the Malegaon blast accused and also in cases concerning the Indian Mujahideen and narcotics terrorism.
Many experts, however, feel that the provisions may not stand against the cricketers unless the prosecution makes out a very strong case. Under normal circumstances MCOCA is invoked against repeat offenders. But when it is being invoked for the first time the case needs to be foolproof or else it could get struck down by the court.
Image: S Sreesanth, Ankeet Chavan and Ajit Chandila