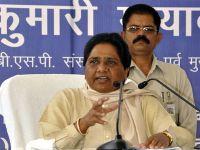 Bahujan Samaj Party supremo Mayawati on Sunday alleged that the "failure" of Congress to alleviate poverty and unemployment among the SCs, STs and OBCs has driven many to Naxalism.
"Despite ruling the nation for maximum number of years since Independence, Congress has failed to alleviate poverty and unemployment among the SCs, STs and the OBCs, resulting in many of them becoming Naxalites or taking the wrong path," she told BSP's South Zone convention in Bangalore.
The former Uttar Pradesh chief minister said, the Congress has not been able to bring about any change in the "societal or financial status" of these sections.
Blaming Congress for playing in the hands of corporates, she said, tribals were being dislocated from their traditional dwellings in forest, their lands encroached upon and sold to big business houses "for a song".
"Instead of appeasing the corporate houses, the government should evolve policies benefitting the common man," she said.
She also accused the Congress of "destroying" reservations provided to the SCs, STs and BCs under the Constitution. Inclusion of other castes under the reservation quota has diluted this provision, she claimed.
Noting that the BSP was concerned about the poor among upper castes and religious minorities, she said, the Centre has also not responded to their pleas for reservation.
Mayawati said, "wrong policies" of the Congress and the BJP during their respective rules have led to the present state of affairs in the country, including rise in corruption.
Urging upon party workers to unite and bring the BSP to power at the Centre and in the states,"which is necessary for the overall development of not only the SCs, STs and the OBCs, but also religious minorities and the poor in upper castes," Mayawati also supported the demand for a separate Telangana state.