Joining thousands at San Francisco's Marina Green Park, Finance Minister Arun Jaitley spoke of the advantages of practising yoga and thanked those who helped in making International Yoga Day a success. Ritu Jha/Rediff.com reports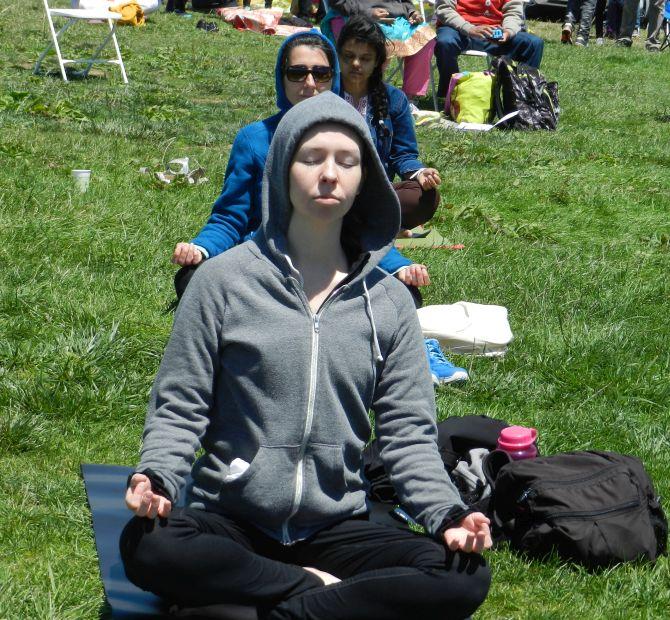 Locals gather at Marina Green Park in San Francisco to take part in the International Yoga Day celebrations. Photograph: Ritu Jha/Rediff.com
Yoga is an art and a science, which stabilises the human mind and controls emotions," Union Finance Minister Arun Jaitley told a crowd of thousands who had gathered in San Francisco to mark the first International Yoga Day.
At an event held at Marina Green Park, Jaitley said he was delighted and privileged to be with the crowd on an "extremely spectacular day".
"We are extremely grateful to the United Nations for adopting June 21 as International Yoga Day," said the finance minister, adding that it was a moment of pride that 191 countries had participated in the event.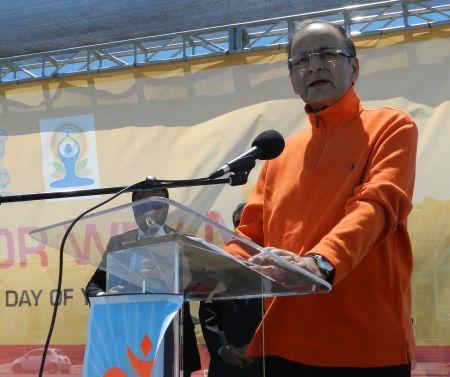 Dressed in a tracksuit and spending time with people taking photographs, Jaitley said, "I am delighted about the event. Yoga carries the message of peace and humanity. I am extremely grateful to the thousands of organisations across the world, which participated and enabled International Yoga Day to be a day of great awakening for humanity."
Jaitley, who made his way from New York and Washington, DC, will be in San Francisco till June 24. When asked by a journalist if he practised yoga, the finance minister said that he used to in the past. However, now he walks every morning, but he may get back to doing yoga again.
The San Francisco event at Marina Green Park was hosted by the Indian consulate in association with the Art of Living Foundation and other organisations such as Isha Foundation, Brahma Kumaris, Yoga Association of North America, Ashtanga, Overseas Volunteers for better India, Hindu Swayam Sevak Sangh, Yoga Bharathi, and Iyengar Yoga.
When asked why the yoga event was held in San Francisco and not in Silicon Valley, the hub of Indians, American Consul General Venkatesan Ashok said, "We wanted to project yoga not only as an Indian experience but also as a worldwide universal experience. That is why we wanted to do it in San Francisco at a venue where it would not just be Indians, but all communities. Hence, we are doing it in Marina Green Park and hope to get 2,000 to 5,000 people."
He added, "Yoga is not just a form of exercise but a way of life and this is something that India can impart because at the end of the day it does come from India. So, this is the message we hope to communicate."