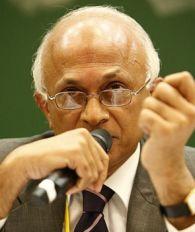 Foreign Secretary Ranjan Mathai on Thursday spoke to his Pakistani counterpart Jalil Abbas Jilani and asked him to expedite the handing over the body of Indian prisoner Sarabjit Singh who died in a Lahore hospital early on Thursday morning after battling for life for nearly a week.
The phone call by Mathai came as a special Air India plane is set to leave for Lahore shortly to bring back the body.
"Foreign secretary spoke to his Pakistani counterpart and asked him to speed up the process of handing over Sarabjit's body," official sources said.
Asked what the Pakistani response was, they said they will try.
The plane will have officials from the ministry of external affairs and Air India crew, official sources said, adding that it was not immediately clear whether anyone from the family will be on board the plane.
Sarabjit, 49, who was brutally attacked in a high-security Lahore jail by fellow inmates on Friday, succumbed to his injuries.
He was convicted of alleged involvement in a string of bomb attacks in Pakistan's Punjab province that killed 14 people in 1990 and spent about 22 years in Pakistani prisons. Sarabjit's family has said his was a case of mistaken identity.