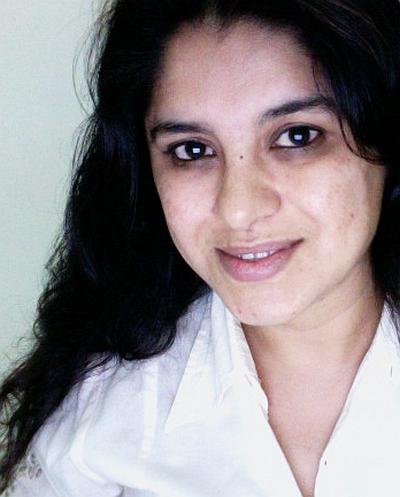 The interrogation of suspects in the double murder of noted artist Hema Upadhyaya and her lawyer has given fresh leads to investigators on whereabouts of main accused Vidya Rajbhar following which Mumbai Police teams have been dispatched to various locations.
According to police, Vidya's arrest would shed light whether the killing was the fallout of a financial dispute between him and Hema, or whether it was a contract killing ordered by her estranged husband Chintan, who remains to be under scanner in the case.
"We have sent several police teams to different locations outside the state, where we suspect Vidya must have gone hiding," a senior police officer told PTI without divulging further details.
Meanwhile, police has sealed the warehouse of Vidya at suburban Kandivali (West), where bodies of the victims were found in a drain packed in cardboard boxes.
Vidya, who is a resident of Shamsi Housing Society in suburban Kandivali (West), was zeroed in as the main culprit following sustained questioning of the four persons detained in connection with the murders of Hema Upadhyaya (43) and her lawyer Harish Bhambhani (65), who were cremated on Monday evening in the presence of family and artists.
As per police, on Saturday night, the day they were believed to have been killed, it was Vidya who had called Hema on her mobile at 7.30 pm.
A manhunt was launched for Vidya immediately after Shivkumar Rajbhar alias Sadhu, was detained by the Uttar Pradesh Special Task Force in Varanasi on Monday following a request by the Mumbai police.
Sadhu had went public with the claim that the two were killed under instructions from Vidya.
"We killed them on orders of Vidya," he had told a TV channel while seated in a police vehicle upon his detention.
Asked how the killings were executed, he said, "We used handkerchiefs soaked in a chemical."
Three other suspects in the case -- Azad Rajbhar, Pradeep Rajbhar and Vijay Rajbhar -- were detained in Mumbai on Sunday.
The three men are in the business of manufacturing and selling fibre glass, which was used by Hema and her estranged husband Chintan Upadhyaya, also an artist, for their installations.
The bodies of Hema Upadhyaya and Bhambhani, their hands and feet tied with ropes, were recovered stuffed in cardboard boxes from a drain in Kandivali on Saturday.
Hema, a Baroda-born painter and installation artist, was locked in bitter divorce proceedings with her husband and had in 2013 filed a case against him alleging that he painted obscene pictures of women on the walls of their matrimonial home in Mumbai to harass her. Bhambhani had represented Hema in this case.
Hema's domestic help had filed a missing complaint at Santacruz Police Station on Saturday after she did not return home. Bhambhani's younger daughter Anita had also filed a complaint at Matunga Police Station the same day.
Hema was last seen by the watchman of her apartment building at 11 am on Friday.
According to Anita, Bhambhani had left his Kings Circle home to meet Hema at 6.30 pm on Friday.
Investigators said Bhambhani met Hema at her art studio in Andheri around 8.30 pm on Friday before talking to his wife on phone. Thereafter the Bhambhani family could not establish contact with him despite calling him several times.
Photograph: Art fundamental/Wikimedia Commons