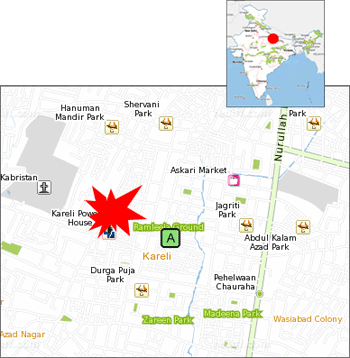 Five were killed and eight other persons, including two girls, were badly injured in a mysterious blast in Allahabad, about 200 km from Lucknow, late on Wednesday afternoon.
The blast occurred around 4 pm in a slum in the crowded Kareli locality of the city. Much confusion prevailed for some time over the number of deaths and injury victims. Initial reports gave out figures like six dead and a dozen injured. However, that was corrected only after a top official briefed media-persons in Lucknow an hour later.
Even as top police officials ruled out any terrorist angle to the blast, the state home department has rushed an ATS team from Lucknow to take stock of the blast.
Cops were groping in the dark about the nature of the blast. However, in a sensational disclosure, Badri Prasad went on to add, "The blast could have been an accident caused on account of clandestine storage of explosive material used in the making of crude bombs, which has become like a cottage industry in Allahabad."  
Considering that most of the slum-dwellers living in the area were garbage or rag-pickers, the police also does not rule out the possibility of some stray explosive material having arrived there with the garbage .
"Most of the victims were children who were playing in an open patch of the densely populated slum," the police told reporters in Allahabad.
"Having suffered major and minor injuries, they were rushed to the district hospital and the medical college," he added.
"Our primary concern right now is to provide immediate medical relief to the injured, as also to ensure the safety and security of the remaining dwellers," Allahabad DIG of police Naveen Arora told reporters .
Reports reaching Lucknow from Allahabad said, "The blast has caused much panic in the entire Kareli area, which had a predominantly Muslim population." However, no arrests have been made in this connection so far.
PTI adds: Asked whether the state government had received and alert from the Centre on a possible terror strike, Badri Prasad said there were no specific alerts.
"Routine alerts do come from the Intelligence Bureau but there was no specific alert," he said.
He said old Allahabad "was famous for crude bombs and it had taken shape of a kutir udyog (cottage industry) there" and the police have been conducting raids on such places and arresting people.
About the claims that bomb may have been hurled by someone, he said that it had been ruled out in preliminary investigations.