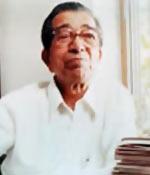 Well-known Marathi poet Narayan Surve, who passed away on Monday at the age of 83, was a social activist who put the voice of Mumbai's working class in Marathi literature.
Aisa Ga Mee Brahma (1962), is his first collection of poems followed by Majhe Vidyapeeth, another collection that hit stands in 1966. His poems described the world of urban population that lived in a metro like Mumbai, who did whatsoever work they could lay their hands on to eke out a living. He brought before the world the bitter truth of those whose life was a mess in search of a mere morsel and also the lives of toiling workers whose life was filled with the struggle to make a living.
In his words, Bhakricha chandra shodhnyaatach jindagi barbaad (Wasted a lifetime in search of the moon of a Bhaakri (flat bread).  He is mostly known for his poetry collection Majhe Vidyapeeth (My University).
Born on October 15, 1926, Surve grew up in the streets of Mumbai and raised by a mill worker. He had slept on the pavement and earned a meagre livelihood by doing odd jobs. He taught himself to read and write. Surve actively took part in the workers' union movement in Mumbai and supported himself as a schoolteacher.

In 1998, Surve was honoured with Padma Shri for excellence in Literature and Education. He received the prestigious Golden Lotus Award for his poetry and Kabir Samman in 1999 from Madhya Pradesh government. He was Convener of the Marathi Advisory Board of Sahitya Akademi and had presided over Marathi Sahitya Sammelan at Parbhani in 1995.
Apart from Majhe Vidyapeeth, compilations of Surve's poems and essays include Jahirnama, Aisa Ga Mi Brahma, Sanad, Manush Kalawant and Ani Samaj.
Surve would describe his struggle in his early years as Kalu laagle tevhaa paasun dabba gheun saachyaavar gelo, ghadavto lohaar haatodyaalaa, tasaach ghadavlaa gelo… (I went to the mill with my lunch box since my childhood, just as a hammer is moulded by an ironsmith, my life was shaped there among the mill workers)
Influenced by Marxism and omrades Dange and Mirajkar, Surve proclaimed social revolution through his poems. He narrated the life of a worker through his poems, using the colloquial language of workers. His poems brought Marathi poetry out of the circle of the middle class. He experimented with reading out his poems before an audience in Maharashtra as well in the entire country. His poems reached the pinnacle of popularity with all classes of the society.
He describes his own emotional world as, Kaamgaar Mee Aahe, Mee Talpati Talwar (I am the worker, the flashing sword) Maazhe hi ek swapna hote re, je malaa pure kartaa ale naahi, Rojchyaa damgirine tevdhi usantach dili nahi, pan pudhche jag tuzhe aahe …(I too had a dream, my dear, which I could not fulfil, the everyday routine did not leave me any leisure, but the world ahead is yours)
Without being backed by great wealth, high education or family heritage, his intellect and high level of thinking as revealed through his poems, is a miracle of his genius. Surve was awarded the Janasthan Award by Kusumagraj Foundation in 2004. His Jahirnama, Sanad and Navyaa Maansaache Aagman (The coming of the new man) were some of his more popular works.