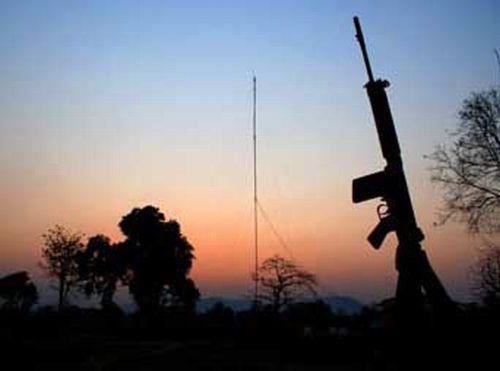 With Saturday's attack on a Congress convoy that killed several party members and police personnel along with Salwa Judum founder Mahendra Karma, the Maoists have issued a strong political message. Sheela Bhatt reports.
The devastating attack by Maoists at Keslur, 50 kilometres from Jagdalpur in Chhattisgarh, has killed five Congressmen.
Former Union minister Vidya Charan Shukla is fighting for his life on the operation table in a Jagdalpur hospital.
The police and civilian death toll may exceed 25, the local police said.
According to S Karimuddin, a local journalist who spoke to Rediff.com from the hospital in Jagdalpur, Shukla's condition is critical. Shukla, who will turn 84 in August, was shot four times.
Mahendra Karma, who founded the controversial Salwa Judam -- a vigilante group that fought the Maoists in Chhattisgarh -- was killed in the attack. Karma, a former Leader of the Opposition in the Chhattisgarh assembly, had Z-Plus security.
Besides Karma, former legislator Uday Mudaliar, Congressmen Yogesh Sharma, Abhishek Jain and Gopi Madhvani were killed in a landmine blast.
Chhattisgarh Pradesh Congress chief Nandlal Patel and his son have been kidnapped by the Maoists.
Karimuddin told Rediff.com, "At around 3 pm on Saturday, a Congress rally ended at Sukma, the district headquarters. The Congress leaders left the venue after they had lunch. After driving for some 50 kilometres through the forests, their convoy was attacked near Keslur."
The Maoists gherao-ed the convoy, punctured the tyres of the vehicles and started firing indiscriminately, Karimuddin said.
Karma and Patel's bodyguards returned fire, but were overpowered.
The Maoists asked Patel to alight from his car, Karimuddin added.
The tenure of the Chhattisgarh assembly ends on January 4, 2014. The state is likely to go to the polls in November.
With Saturday's attack, the Maoists have made their presence felt anew in the state, issuing a strong political message to the Congress and ruling Bharatiya Janata Party.
"The Maoists were worried to see their cadres dwindling," Karimudin said. "They have sent a message to the people in power who have become complacent."
Is it any surprise that senior police officers had not arrived at the scene of the attack even four hours after the horrifying incident?