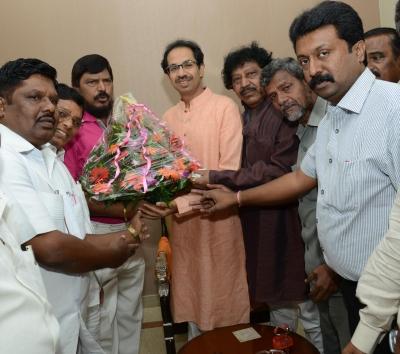 Beleaguered Shiv Sena leader Manohar Joshi, who was booed off the dais by his party's supporters at a Dussehra rally in October, on Sunday called on party chief Uddhav Thackeray at his residence.
"I met Uddhavji to greet him on the occasion of Diwali," Joshi told reporters.
"Since there were a number of party workers who had come to greet him, I could not talk extensively with Uddhavji. A comprehensive discussion with him will take place some other day. The Shiv Sena chief will give time for the next meeting," he said.
The Shiv Sainiks had heckled Joshi at the Dussehra rally as they were annoyed with his utterances against Uddhav Thackeray's leadership style. After Joshi was booed off the stage, Uddhav had said during the rally that he would not fall prey to any pressure tactics.
Meanwhile, Republican Party of India chief Ramdas Athawale also met Thackeray at his residence.
"Uddhavji said that he has been discussing with senior BJP leaders about allotting the Rajya Sabha seat to me. He has promised me that he will allot a Rajya Sabha seat from the Shiv Sena or the BJP quota," Athawale said.
Image: RPI chief Ramdas Athawale with Shiv Sena chief Uddhav Thackeray ' Photograph: Sahil Salvi