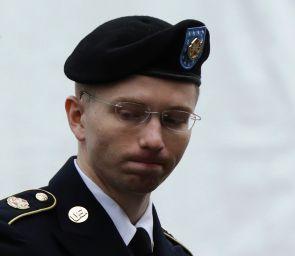 A US military court sentenced American soldier Bradley Manning to 35 years of imprisonment for leaking hundreds of thousands of classified documents to whistleblower website WikiLeaks, causing huge embarrassment to the Obama Administration.
Manning, 25, was convicted last month of multiple charges including violations of the Espionage Act for copying and disseminating the documents while serving as an intelligence analyst at a forward operating base in Iraq.
He faced up to 90 years of imprisonment. However, he was acquitted of the most serious charge - "aiding the enemy". The leaked files were posted on the website of WikiLeaks, revealing some of the top secrets of the US Government, causing huge embarrassment to the Obama Administration.
Manning also leaked video of a US helicopter attack in Iraq in which at least nine people were killed.
The US military judge, Army Col. Denise Lind, said that Manning was dishonourably discharged from the service.
The US Government had asked for 60 years of imprisonment.
"There is value in deterrence, your honour; this court must send a message to any soldier contemplating stealing classified information," said Captain Joe Morrow, a military prosecutor.
"National security crimes that undermine the entire system must be taken seriously," he said.
During the trial, Manning addressed the court and apologised for his actions, saying he was "sorry that I hurt" the United States.
He will receive credits for the 1,293 days he has spent behind bars so far. He was arrested in May 2010 in Iraq.