A huge search operation is under way for surviving members of the Islamist group that killed 129 people in Paris on Friday night, and their accomplices.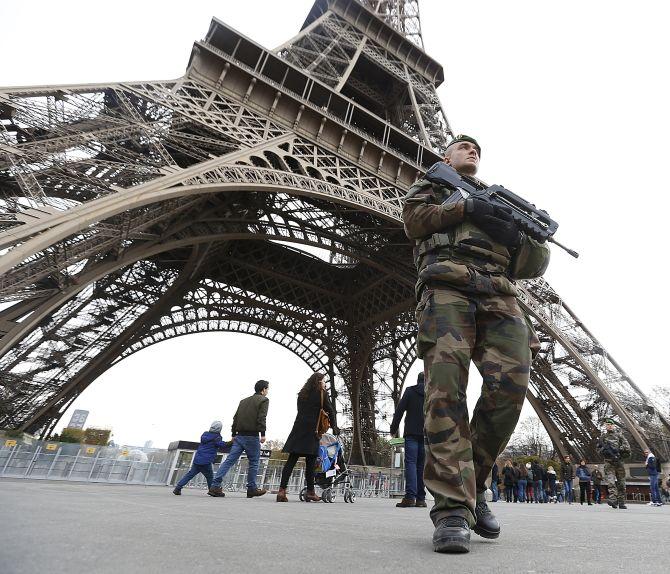 French military patrol near the Eiffel Tower after a series of deadly attacks. Photograph: Yves Herman/Reuters
Authorities are hunting for a Belgium-born French national who's one of the three brothers suspected in the Paris terror attacks.
Belgian and French officials want to know where Salah Abdeslam is, and Belgium has issued an international warrant for him.
French police released his photo and warned people not to interact with him, saying that he is dangerous.
Jean-Pascal Thoreau, a spokesman for Belgium's Federal Prosecutor, said Abdeslam is one of three brothers suspected of involvement in the attacks. One of the brothers was killed in the attacks, and another was arrested by Belgian police, Thoreau said.
Salah Abdeslam had been questioned by French police earlier but was not detained, a source close to the investigation into the Paris attacks said.
He was driving in the direction of the Belgian border when stopped by police and questioned a few hours after the attacks, the source said. Now, his whereabouts are unknown.
At least three other attackers were French citizens. Two had been living in the Brussels area, including one in Molenbeek, according to the Belgian authorities. The third was Ismael Omar Mostefai, 29, a native of Courcouronnes, France, who had been living in Chartres, 60 miles southwest of Paris, and who, along with two other gunmen, killed 89 people at the Bataclan concert hall.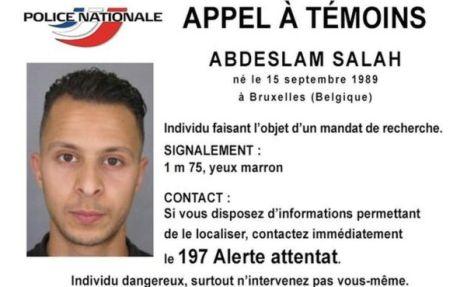 The poster issued by the French authorities alerting people about Salah.
According to a neighbour of Mostefai, he was a normal child and never spoke about religion. However, he adds, that in 2010, things changed for Mostefai, the middle of five children born to an Algerian father and Portuguese mother.
And as authorities continue to examine the Mostefai's motives, other clues emerge.
Two vehicles used in the attacks had been rented in Belgium early last week, the federal prosecutor for Brussels announced on Sunday.
A Belgian-registered VW Polo found abandoned near the Bataclan was rented by Abdeslam. Meanwhile, another Seat Leon car was found with Kalashnikov rifles inside it had been rented by his brother Ibrahim, who blew himself up at the Comptoir Voltaire restaurant on Friday night, severely injuring one person.