This time, Bajrang Dal 'activists' object to lady students traveling on a study trip.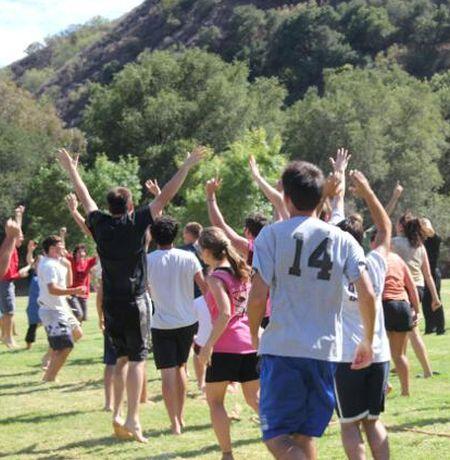 "There is no communal tension in this area. Hindus, Muslims and Christians live in peace here. Only moral policing has been a problem," Mangalore Assistant Commissioner of Police D R Ashok tells Rediff.com
Moral policing raised its ugly head yet again in Mangalore early on Sunday, March 15.
A group of 38 students from the Mudipu First Grade College, about 20 km from the city, were embarking on a trip to Bengaluru to watch the state assembly proceedings when the bus they were traveling on was blocked by Bajrang Dal 'activists'.
The Bajrang Dal 'activists' objected to girls being on the trip and ordered the young ladies to disembark from the bus.
After the altercation with the Bajrang Dal 'activists,' the college cancelled the trip.
"The students had gathered in the college late on Saturday night," ACP Ashok added. "They were to leave in the early hours of Sunday."
Hindu, Muslim and Christian students were part of the students's group.
The local circle inspector arrested four Bajrang Dal 'activists' and three other men and seized the Swift car they were traveling in.
Later, miscreants threw stones at a madrassa, breaking window panes.
Karnataka Health and Family Welfare Minister U T Khader, who is the local MLA, told Rediff.com, "These were political science students who wanted to see the assembly proceedings. The principal and teachers took their parents's permission and planned the trip."
Khader felt the problem was created by "outsiders." Only two of the Bajrang Dal 'activists', he said, were locals, adding there were more than 20 outsiders.
"The police have provided security to the college," the minister added. "Now the situation is normal."
Last month, a student was reportedly abducted and assaulted by a group of men who mistakenly accused him of featuring in a photograph, transmitted on WhatsApp, lying on the laps of fellow lady students.
On July 28, 2012, men owing allegiance to the Hindu Jagarana Vedike attacked a homestay in Mangalore, claiming that guests at a birthday party there were violating moral values.
Moral policing in Mangalore first became a national issue when activists from the previously unknown Sri Ram Sene shamefully assaulted young women at a city pub on January 24, 2009, alleging that they were transgressing Indian tradition.
Image published only for representational purposes.