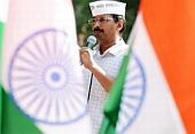 High drama was witnessed on Tuesday at Aam Aadmi Party convener Arvind Kejriwal's press conference when a man, claiming to be a supporter of Anna Hazare and a Bharatiya Janata Party activist from Maharashtra, threw black paint on him and other party members present there.
Nachiketa Vaghrekar claimed he worships Anna as his guru and accused Kejriwal of "betraying Hazare and betraying the people".
He entered the press conference venue and threw a can of black paint on Kejriwal and his colleagues Manish Sisodia, Sanjay Singh, lawyers Prashant Bhushan and Shanti Bhushan, while shouting 'Anna Hazare Zindabad'.
A small quantity of paint fell on Kejriwal's face while it also fell on Sisodia, Prashant Bhushan and Sanjay Singh.
AAP activists present there immediately pulled Vaghrekar, who claimed to be the general secretary of the BJP's Ahmednagar unit, out of the conference hall.
Kejriwal, without naming any party, said, "It was done by those whose vested interests were being hit due to the AAP's growing popularity."
He claimed the position of both the BJP and the Congress was bad in the Delhi assembly elections.
Senior BJP leader Sushma Swaraj later claimed that Vaghrekar was not a member of her party.