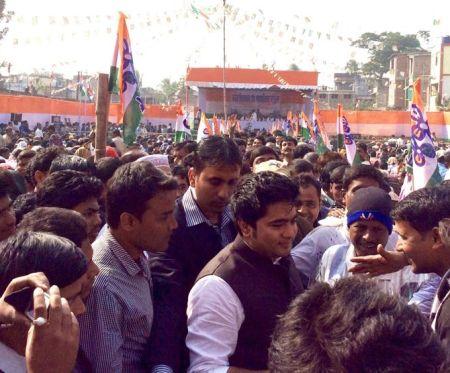 West Bengal Chief Minister Mamata Banerjee's nephew and party MP Abhishek Banerjee was on Sunday slapped by a party worker during a rally at Chandipur in East Midnapore district.
The party worker, who is yet to be identified, suddenly climbed up to the stage and slapped Banerjee, president of the Trinamool Youth Congress, when he was addressing the rally, police officials said.
Other party workers soon caught the man and beat him up, they said, adding, he was being taken to the hospital.
After the incident the rally of party's youth wing did not progress.
Trinamool MP Derek O'Brien tried to evade queries on the matter and said an outsider may be behind the incident.
"I don't have any details. What I can say is that we are looking to find out all the details, and by the initial reports of what we are getting, it maybe the handiwork of some outsider. The initial reports that I am getting is that someone came on the stage to click a photograph with him (Abhishek). So on that pretext of taking a picture through the cell phone, he was slapped," O'Brien said, adding, "We will look into this and find out if any outsiders were involved."
Bharatiya Janata Party condemned the incident and observed that the internal power struggle in Trinamool had come out in the open. "Whether it is an insider or outsider, BJP is of the opinion that in politics, there is no violence. Therefore, we condemn it," BJP state president Siddharth Nath Singh said.
"However, having said that, it is also a reality that where this meeting was happening is home area or home district of one of their youth wing leader, (Subhendu) Adhikari, and that tussle is known between Abhishek and Adhikari. So it is possible that it is an inside struggle, power struggle within TMC which has come out in the open and there seems to be a kind of civil war which is being unleashed in the TMC," he said.
The Communist Party of India also laid the blame on internal rift in the TMC, accusing the party's East Midnapore MLA of the being behind the incident.
"This incidence of slapping does not have any connection with an outsider. This is a fraction of the rift that is going within the TMC. And the regional MLA of East Midnapore, his people have only slapped Abhishek Banerjee," senior CPI leader Atul Kumar Anjan said.
Image: TMC's Abhishek Banerjee was addressing the crowds when a man climbed on the stage and slapped him.
Watch the video HERE: