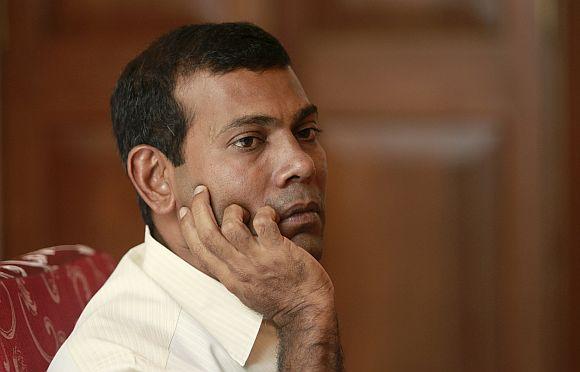 In a significant decision, which may escalate the political turmoil in Maldives, the country's supreme court on Tuesday declared as null and void the first round of presidential polls in which former president Mohammed Nasheed emerged as the winner.
The apex court also directed that fresh polls must be held before November 4 and the re-run of the first round should be conducted on the 20th of this month, President Mohammed Waheed's Press Secretary Masood Imad told PTI.
"The supreme court annulled the first round of presidential elections held on September 7," Masood said.
Giving the details of the hearing, Maldivian High Commissioner to India Mohamed Naseer told PTI that the verdict was issued by majority of the judges of the seven-judge bench.
"The court also declared that fresh polls be held before October 20 and if there is to be a second round, it must be held before November 4," he said.
The election commission was also ordered to print fresh ballot papers with new security features and to follow strict guidelines during polling, Naseer said.
The SC last month had postponed the second round indefinitely on the plea of Jumhooree Party, which stood third and missed the chance of a run-off with Nasheed in the second round by a whisker.
The Jumhooree Party plea alleged discrepancies in the polling and demanded that the results be annulled. Nasheed, 46, won the first round comfortably with 45.45 per cent of the vote and faced a run-off contest on September 28 against Abdullah Yameen, the half-brother of the islands' former autocrat Maumoon Abdul Gayoom.
According to the Maldivian constitution, it is mandatory that a run-off election takes place within 21 days of a first round if no candidate gains more than 50 per cent of the vote. The run-off takes place between top two vote garnering candidates.
The political scene in Maldives has been in a state of flux since February 2012 when Nasheed, the country's first democratically elected President, was forced to resign in duress. He was succeeded by Vice President Mohammed Waheed.

Image: Former Maldives president Mohammed Nasheed