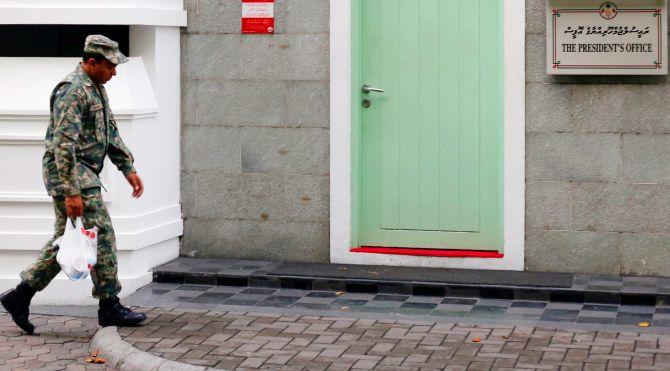 Maldives has declined India's invitation to participate in a naval exercise, in an apparent snub to New Delhi, even as the Maldivian envoy to India said his country cannot participate in the event due to the emergency situation back home.
Maldives Ambassador Ahmed Mohamed also asserted that the two nations enjoy a history of excellent defence and military cooperation, a tradition which they are confident will endure and continue indefinitely, remarks which are seen as an attempt to assuage feelings in New Delhi.
"Maldives was invited to join the Milan exercise but they have declined," Navy Chief Admiral Sunil Lanba told reporters on the sidelines of an event on Tuesday, and indicated that the country may have taken the decision possibly due to the current situation there.
India will host navies from at least 15 countries for the eight-day mega naval exercise 'Milan' that is set to begin on March 6 at the Andaman and Nicobar Islands. Maldives has been regularly participating in the biennial exercise, which was started in 1995.
Reacting to the development, Mohamed told PTI, "I would like to clarify that the Maldives is unable to participate in the naval exercise during this time due to the current circumstances of a State of Emergency being in effect for those under investigation for serious crimes. During such a time especially, security personnel are expected to be at a heightened stance of readiness."
He also noted that the participation of Maldives naval officers would have been as 'observers' only.
"When situations warrant that officers be at their post, back at home, we have held back on deploying them to participate in exercises and training programs held overseas, and as such, not being able to participate in the naval exercise at this time is not extraordinary," he said.
However, he asserted that Maldives and India enjoy a 'long history of excellent defence and military cooperation and it is a tradition that we are confident that will endure and continue indefinitely'.
Ties between India and Maldives nose-dived after Maldivian President Abdulla Yameen declared emergency on February 5 following an order by the country's Supreme Court to release a group of opposition leaders, who had been convicted in widely criticised trials.
India has issued a number of statements, reacting strongly over the imposition of emergency on February 5 and subsequent extension by a month.
The exercise is taking place in the backdrop of China's growing military posturing in the Indo-Pacific region and officials indicated that the issue is likely to figure during deliberations at the event.
Significantly, there are reports of growing proximity between Male and Beijing.
Maldives health minister resigns, appeals for support from international community
Maldives State Health Minister Dunya Maumoon, niece of President Abdulla Yameen, resigned on Tuesday from the cabinet after the arrest of her father and appealed the international community to support the Maldivian people in overcoming the political crisis plaguing the island nation.
Dunya's father, former President of the Maldives Maumoon Abdul Gayoom, and brother Ahmed Faaris Maumoon were arrested on charges of trying to topple the Yameen government.
Dunya has been under fire for working with the government while her father and brother are in police custody after a state of emergency was declared in the country.
She resigned from the cabinet on Tuesday, calling upon the international community to support the Maldivian people in overcoming the political crisis and to help build a stronger democratic system.
'I have refused to be bullied by different political forces and I remain strong and stand by my convictions,' she said in her resignation letter.
Her father, Gayoom, is Yameen's half-brother and ruled the country for 30 years until 2008. He was arrested at his residence early this month.
'He is not just my father, but the father of the nation, who has built this country and has earned the respect and love of the people,' she said in the letter.
IMAGE: A Maldives National Defence Force soldier walks past the president's office building after Maldives President Abdulla Yameen declared a state of emergency. Photograph: Stringer/Reuters