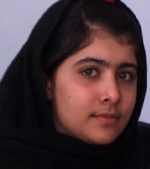 Pakistan's army chief General Ashfaq Parvez Kayani on Wednesday visited a teenage rights activist grievously injured by Taliban militants as he warned that the "heinous" attack on the girl had clearly exposed the "extremist mindset" confronting the nation.
Fourteen-year-old schoolgirl Malala Yousufzai -- who was shot in the head by the militants on Tuesday in the former Taliban stronghold of Swat, which is located 160 km from Islamabad -- has "become a symbol for the values that the army, with the nation behind it, is fighting to preserve for our future generations," Kayani said.
"These are the intrinsic values of an Islamic society, based on the principles of liberty, justice and equality of man," said the army chief, who visited a military hospital in Peshawar to meet Malala.
Kayani used the occasion to send out a message to the militants, saying incidents like the attack on Malala "clearly expose the extremist mindset the nation is facing."
He said the terrorists had underestimated the "resolve and resilience" of the people. "It is time we further unite and stand up to fight the propagators of such barbaric mindset and their sympathisers," he said.
"We wish to bring home a simple message: we refuse to bow before terror. We will fight, regardless of the cost, we will prevail Insha Allah," Kayani was quoted as saying in a statement issued by the military.
However, the army chief, who condemned the attack on Malala as a "heinous act of terrorism," did not directly refer in his remarks to the banned Tehrik-e-Taliban Pakistan, which has claimed responsibility for the incident.
A group of doctors performed a three-hour-long surgery on Wednesday to remove a bullet lodged near the spine of Malala, who was attacked by the Taliban for speaking out against the atrocities of militants.

Image: Malala Yousufzai