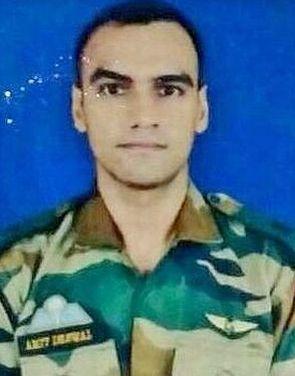 The body of Major Amit Deswal, who was killed in an encounter on Wednesday, was on Thursday recovered from a remote place in Tamenglong district in Manipur and being flown to Imphal, army officials said.
The body will then be taken to Surheti in Jhajjar district of Haryana via New Delhi, army officials said.
Maj Deswal of 21 Para (Special Force) was killed in a gunbattle with Zeliangrong United Front militants in densely forested Nungba area during a combing operation undertaken by Rashtriya Rifles and Special Forces personnel.
One militant was also killed in the encounter.
Deswal is survived by wife and a three-and-a-half year old son.
For the time being, the combing operation which was going on for the last few days has been called off by the army, the officials said.
In another incident, one Assam Rifles jawan was killed and three others were injured in a bomb blast at the transit camp of the force near Minuthong in Imphal West district on Wednesday, police said.
Unidentified militants planted the powerful bomb near the Assam Rifles camp.
The injured were admitted to hospital, police said.
Re-enforcement of security forces including Assam Rifles and Manipur Police were sent to the spot after the blast.
A search operation was conducted in and around the transit camp like the Khuman Lampak Sports Complex and Namthallong village, police said.
No militant group has claimed responsibility, they said, no one has been arrested.