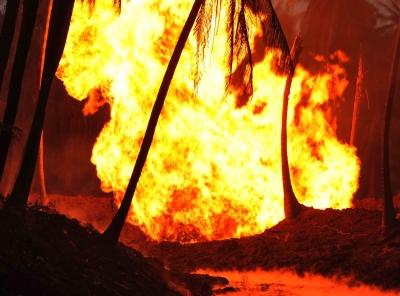 Fifteen people were killed and 18 injured when a massive blaze raged through a village in Andhra Pradesh's East Godavari district following a blast in an apparently leaking gas pipeline on Friday morning.
"Bodies of 13 people charred in the incident were recovered from the gutted houses. Two others succumbed to their burn injuries while undergoing treatment at different hospitals," Amalapuram Deputy Superintendent of Police M Veera Reddy told PTI.
18 injured people were shifted to different hospitals in the district, another police officer said, adding the deceased include five women, three girls and a boy. The leaping flames from the state-run Gas Authority of India Limited pipeline at Nagram village in Mamidikuduru Mandal of the district quickly swept through nearby houses and coconut plantations, leaving behind a trail of destruction.
"The blast and subsequent blaze which started around 5 am spread swiftly engulfing houses, coconut farms and vehicles parked in the vicinity. In 15 minutes everything was gutted," the police officer said.
The fire got apparently triggered when a tea shop vendor lit up a stove, setting off a blast, IGP North Coastal Zone Atul Singh said. A GAIL official, however, quoted its Chairman B C Tripathi as saying, "The exact cause of the blast is not immediately known. After an inquiry only we will get the details and cause of the blast."
An 18-inch pipeline feeds gas to Lanco's Kondapalli power plant near Vijaywada. Petroleum Minister Dharmendra Pradhan has ordered a high-level inquiry headed by a joint secretary in his ministry. The probe panel will have officials of Oil Industry Safety Directorate, NDMA and Hindustan Petroleum Corp Ltd as members but GAIL and ONGC, from whose fields gas was being supplied, have been kept out of it.
The blaze occurred barely a few hundred metres from ONGC's Tatipaka Refinery located at the village. "The gas pipeline has been shut. Fire has been controlled. This is a very serious situation and I have ordered a high-level inquiry into the incident," Pradhan, who is scheduled to visit the scene, told media persons in Delhi.
Petroleum Secretary Saurabh Chandra, GAIL Chairman B C Tripathi and ONGC Chairman D K Sarraf are scheduled to accompany him. President Pranab Mukherjee, Prime Minister Narendra Modi and Congress chief Sonia Gandhi have condoled the loss of lives in the tragedy.
Modi has announced an ex-gratia relief of Rs two lakh from the PM's Relief Fund for the next of the kin of those killed. "My thoughts (are) with the families of those who lost their lives in the GAIL pipeline fire in AP. (My) prayers (are) with the injured," Modi said.
Meanwhile, Andhra Pradesh Chief Minister N Chandrababu Naidu today cut short his visit to Delhi and rushed to Rajamundry.
A statement from the government of Andhra Pradesh said the chief minister has cut short his tour programme and rushed to Rajamundry along with Oil Minister Dharmendra Pradhan in a special flight Friday afternoon.
Naidu expressed his condolence over the fire accident reported at Mamidikuduru in Amalapuram of East Godavari district, it added.
Ahead of his departure from Delhi, Naidu told reporters that he received information about the accident this morning and he is monitoring the situation with the district collector regarding rescue and relief measures.
AP Home Minister N Chinna Rajappa is at the accident spot and monitoring assistance and rehabilitation operations, he added.
Replying to a query, Naidu said taking remedial measures to prevent such accidents in the future is vital. He also stated that the issue would be probed and necessary action would be taken.
"If the accident was because of the negligence of any official, action would be initiated against them," the statement quoting Naidu said.
With inputs from Vicky Nanjappa
Image: SnapsIndia