Saudi police allege Indian's hand cut off due to fall. Indian embassy await word from Saudi government. A Ganesh Nadar/Rediff.com reports on the latest developments in the Kasthuri Munirathinam case.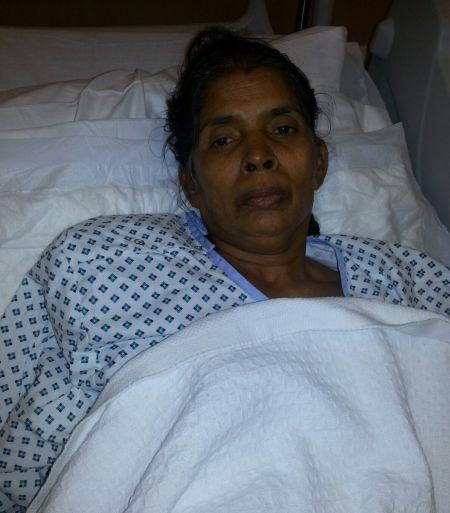 The Saudi Arabia police now claim that Kasthuri Munirathinam's hand was severed when she fell on a generator below the house where she was employed. Further, the Saudi police allege that Munirathinam is mentally disturbed.
Munirathinam traveled to Saudi Arabia a few months ago after she secured a job as a maid in a Saudi household. Disturbed by the working conditions at the home she was employed, Munirathinam tried to escape from the second floor of her employer's residence, by tying a saree to the balcony railing.
She earlier told Rediff.com from her hospital bed in Riyadh that her hand had been cut off by someone, but she had not seen the person responsible for the horrific act.
"My mother had a medical certificate that she could travel to and work in Saudi Arabia," her son M Mohan told Rediff.com. "How would a doctor give her a certificate if she was mentally disturbed? How would she take a flight to another country if she was mentally disturbed?"
His mother's severed hand, Mohan added, was taken separately to the hospital. "However high you fall from, the bones will break. Why would the hand come off completely? How can it be severed completely from the shoulder by a fall?" the distraught son asked.
"I spoke to my mother today (October 19). She is speaking normally. She did not speak like a mentally disturbed person on the phone. She has been working in that house for two months. How would she be able to work there for so long if she was mentally disturbed?" Mohan wanted to know.
After the incident became public, Mohan said the Indian embassy in Saudi Arabia has contacted his family only once. Embassy officials made his mother speak to him on the phone. "After that there has been no news from the embassy. I hope they have hired a good lawyer for my mother," he said.
"The Saudi police are saying she is mentally disturbed. Let them give a certificate that she is mentally disturbed. It will be proved wrong when she is tested by an Indian doctor here," Mohan said.
"She is scared," Mohan said, recounting his telephone call with his mother. "She wants to come back. We told her to stay there till she gets justice. Even if she comes back, we will fight till we get justice here".
Mohan has filed a petition with the district collector in Vellore, explaining the family's point of view about the Saudi police's allegations.
A source at the hospital where Munirathinam is recuperating told Rediff.com, "She is okay now, but very scared. Indian embassy officials are visiting her regularly and have assured her all help. They have told her to wait for two days before making any decision."
"From what I hear, there is no word from the Saudi government on this yet. The Indian embassy is waiting to see what the Saudi government will do before they decide their next step," the source said. "Everyone here is trying to help the lady get justice. She has to be patient and strong".
IMAGE: Kasthuri Munirathinam in a Riyadh hospital