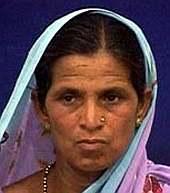 In the midst of flip-flops by Kalavati Bandurkar on contesting the Maharashtra assembly polls, the non-governmental organsiation supporting her candidature on Saturday replaced her with another candidate.
"Since Kalavati is not well and under tremendous pressure from many quarters to withdraw her nomination from Wani, the Samiti has decided to replace her with Babytai," said Vidarbha Janandolan Samiti president Kishore Tiwari.
"Kalavati will decide her own fate. She may contest if she can withstand pressure, but as far as the Samiti is concerned, its nominee to represent the farm widows is Babytai whose husband Chhatar Singh Bais ended his life in 2007," he said.
Kalavati, who shot into the limelight after Congress general secretary Rahul Gandhi mentioned her plight in the Parliament, was hospitalised on Friday. She, however, drove in an ambulance to the Wani office of the assistant returning officer, accompanied by Tiwari, to file her papers on Friday.
Kalavati could not be immediately reached for comments. September 29 is the last date for the withdrawal of nominations.
Kalavati had, in a recent interview to a leading Marathi newspaper, said that she was being pressurised to contest the elections.
"I do not want to contest the elections," she had told the newspaper, alleging that workers of the VJS had made her announce before the TV cameras that she would contest the assembly elections.
Sulabh International, another NGO, had, after Rahul Gandhi's speech, promised to deposit Rs 30 lakh in Kalawati's bank account.
Bindeshwar Pathak, founder of Sulabh International, had tried to dissuade her from entering the poll arena and suggested that she get involved in social service instead. Her decision to join politics will have a 'socially undesirable fallout' with people losing their faith in the acts of benevolence for the needy, Pathak had said.