Late Shiv Sena supremo Bal Thackeray made BJP leaders remove posters that proclaimed Modi, then CM of Gujarat, as the 'Hindu Hriday Samrat'. Archis Mohan reports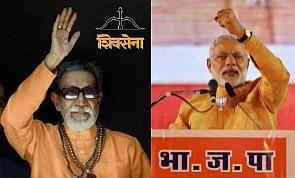 Some in the Bharatiya Janata Party leadership have recently claimed the BJP-Shiv Sena alliance could have survived if Bal Thackeray, the Sena's unquestioned leader, was alive. There are others who disagree.
For, the genesis of BJP-Sena divorce dates back to over a decade when Thackeray made BJP leaders remove posters that proclaimed Narendra Modi, then chief minister of Gujarat, as the 'Hindu Hriday Samrat' or the 'Emperor of Hindu hearts'.
The incident dates back to late 2002.

Modi was visiting Mumbai, and enthusiastic BJP workers put up his posters across the city that so described him.

Until then, only Thackeray was called that, by his supporters.

According to people in the know, the Sena supremo was very upset and made BJP leaders remove all such posters.

Modi and Thackeray's relations were never the same.

Modi had skipped Thackeray's funeral in November 2012.

Some months earlier, Thackeray had backed Sushma Swaraj as the National Democratic Alliance's prime ministerial candidate for the 2014 Lok Sabha elections.
The BJP is convinced there is a huge 'Modi wave' in Maharashtra, which would help it to get to the majority mark in the assembly.

A survey by website lensonnews.com has forecast 152 seats for BJP and its allies. The halfway mark is 144.

The survey has predicted 44 seats for the Congress and 38 for the Sena.

The Nationalist Congress Party would account for 16 seats, while the Raj Thackeray-led Maharashtra Navnirman Sena would get 14 seats, the survey has claimed.
BJP spokesperson G V L Narasimha Rao, also a psephologist, has been part of the survey but claimed it was not conducted or sponsored by his party.

The survey predicts 28 to 30 per cent vote share for the BJP, followed by Congress (22 per cent), Shiv Sena (17 per cent) and NCP (15 per cent).

The survey echoes the belief among BJP strategists that their party would benefit from its divorce with the Sena, as two-thirds of their cumulative votes would now accrue to the party.

Similarly, the Congress would get much of Congress-NCP cumulative votes.
The BJP's assessment is that the Sena's attempts to raise the Marathi versus Gujarati issue has few takers, and it having likened BJP president Amit Shah to Shivaji's enemy, Afzal Khan, and 18th century Afghan invader Ahmed Shah Abdali, have backfired.

Meanwhile, the BJP has dropped its advocacy of a separate state of Vidarbha to be carved out of Maharashtra.

Party sources said the issue would not find any mention in the BJP's manifesto, likely to be released in next couple of days.
On Wednesday, BJP leader Prakash Javadekar said the issue in this election was corrupt governance of Congress-NCP.

"It (Vidarbha) isn't the Andhra-Telangana kind of issue in Maharashtra," Javadekar said, suggesting Vidarbha wasn't an issue for the BJP in this election.

Modi, in his public rallies, has kept up the rhetoric that none can divide Maharashtra or take away Mumbai from the state.

The BJP is unlikely to change its strategy to not attack the Sena, despite trenchant criticism from its former ally.

It is also confident that the late Gopinath Munde's daughter, Pankaja, has managed to fill in to her father's shoes, and the BJP would receive the support of Other Backward Classes in the election.

Munde hailed from the Vanzara OBC community.

Javadekar also claimed the BJP-Sena alliance would have remained intact only if Thackeray was alive. "Now that Balasaheb isn't there, the alliance also came unstuck," he said.

Coverage: Maharashtra Assembly Election