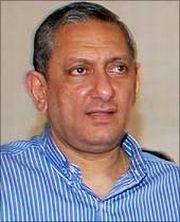 Additional Director General K P Raghuvanshi was removed as the head of Maharashtra Anti-Terrorism Squad on Thursday, days after he was criticised by the Centre for disclosing some information following the arrest of two suspected terrorists in Mumbai.
He will be replaced by Joint Commissioner of Police (Crime) Rakesh Maria, a home department source said.
"Raghuvanshi has been relieved of the responsibilities of the ATS chief. Joint Police Commissioner Maria will take over," the source said.
Raghuvanshi has been transferred as Additional Director General (Law and Order).
Maria met Home Minister R R Patil after the reshuffle.
The Union home ministry had come down heavily on Raghuvanshi for disclosing "more than sufficient" information to the media after the arrest a few days ago of two terror suspects who, the police said, were planning to attack ONGC office and shopping centres in the metropolis.
Joint Police Commissioner (Law and Order) Himanshu Roy is likely to replace Maria.
The Maharashtra government had last week said it would discuss possible action against Raghuvanshi. Chief Minister Ashok Chavan had said though the state government has not received any directive regarding Raghuvanshi, he was aware that the Centre was unhappy with the way certain information was given away soon after the arrests.
Raghuvanshi was appointed the ATS chief on June 11 last year after the Bombay High Court pulled up the authorities over the crucial body remaining headless since the killing of Hemant Karkare in 26/11 terror attacks.
A 1980 batch IPS officer, Raghuvanshi was the first to head the ATS when it was formed in 2004. Earlier, he had worked with CBI for a brief period.
Image: New chief of Maharashtra Anti-Terrorism Squad Rakesh Maria