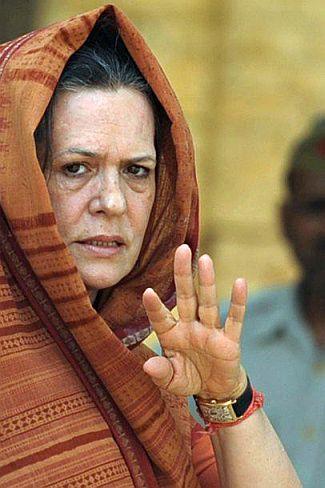 Congress president Sonia Gandhi on Thursday mounted an assault on the Bharatiya Janata Party, slamming it for "spreading hatred" in society, and was unsparing in her criticism of former ally Nationalist Congress Party whose "only goal", she said, was power.
Sonia, whose party together with NCP ruled Maharashtra for 15 years, wondered with whom will the former partner ally after the October 15 assembly polls.
"Till yesterday, they (NCP) were with us. I want to alert you. Tomorrow they may align with anyone. Their only goal is kursi (power)," she said, addressing a poll rally at Aurangabad, apparently refusing to buy NCP chief Sharad Pawar's contention that his party will forge partnership with only a secular entity.
The Congress president, who joined the poll campaign with just four days left for electioneering to end, also flayed BJP and Shiv Sena. "Today, BJP and Shiv Sena criticise each other. BJP promises to bring you the moon but forgets it after elections," she said.
Earlier, addressing a rally at Kolhapur, she said BJP and Shiv Sena might have parted ways but in reality they are one. "Their aim is to spread hatred in society. Don't get swayed by BJP, which changes masks. Opportunist parties like BJP and Shiv Sena can do anything for power. They may look separate but in reality they are one," she said.
Recalling the contribution of Congress leaders in India's development, Sonia said, "When Nehru was laying foundation stone of Bhakra Nangal dam, people who are making tall claims today were just five-years-old. When Indira Gandhi launched the Green Revolution, they were 13-years-old. When Rajiv Gandhi began the IT revolution, these people opposed him," she said.
Citing achievements of Congress, she said, "India went to the moon and we also became a nuclear power."
She said the Narendra Modi government was carrying forward schemes of the erstswhile UPA government despite BJP having ridiculed them earlier. "They ridiculed schemes of Congress government but are going ahead with the same schemes," she said.
"Our opponents say they will take Maharashtra ahead of Gujarat. In almost all sectors, Maharashtra is ahead of Gujarat," Sonia said, attacking Modi over his claims about the Gujarat model of development initiated by him as the chief minister.
"When polls come, they (BJP) say big things but their reality is different. During the Lok Sabha polls, they made tall promises. What happened to their promise of reducing inflation in 100 days? What happened?" she asked.
She also questioned the Modi government over its handling of escalating ceasefire violations by Pakistan which have resulted in civilian casualties notwithstanding the government's claim that it was responding tit-for-tat to the shelling. "They had spoken of giving a befitting reply to Pakistan. What happened?" she asked.
"They say those who didn't do anything in 60 years are asking to them give an account of 60 days in office. I ask you, why do you have apprehension in giving the account," she said.
The Congress leader also slammed Modi for invoking Maratha king Shivaji at his election rallies. "They invoke Shivaji Maharaj during election but when our government planned a grand statue of Shivaji in the Arabian Sea, they opposed it," she said.