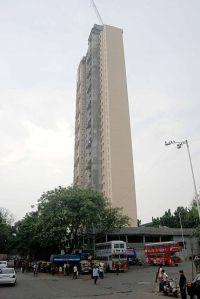 Maharashtra government has rejected the report of the judicial commission of inquiry on the Adarsh scam it tabled in the legislative assembly on Friday which indicted several politicians including three former chief ministers for "blatant violations" of statutory provisions.
The report of the 2-member commission headed by retired high court judge J A Patil came down heavily on those in authority describing the scam as a "bad precedent" which reflected "greed, nepotism and favouritism" by those associated with it.
The panel found 25 of the society's 102 members ineligible and 22 cases of benami purchase of flats.
The report said Adarsh society enjoyed political patronage of former chief ministers Vilasrao Deshmukh, Sushil Kumar Shinde and Ashok Chavan, former Revenue Minister Shivajirao Nlengekar Patil, former Minister for Urban Development Sunil Tatkare and former Minister of Urban Development Rajesh Tope.
Ashok Chavan was the only chief minister chargesheeted in the scam by the CBI but Governor K Sankaranarayanan had refused sanction to the investigative agency to prosecute him a few days ago.
The beneficiaries included politicians across the spectrum and their relatives.
Those found ineligible for ownership of flats included former Maharashtra Assembly speaker Babasaheb Kupekar of NCP, former Shiv Sena MP Suresh Prabhu and three relatives of former Chief Minister Ashok Chavan, who had to step down after the scam surfaced.
Chief Minister Prithviraj Chavan said the decision on rejection of the findings of the inquiry commission was taken by the Cabinet "in the interest of the people".
He, however, refused to elaborate on how the Cabinet's decision was in larger public interest.
The much awaited report, which was submitted to the state government on April 18 this year was tabled in the House on the last day of the Winter Session today.
The interim report was submitted to the state government on April 13, 2012 and the Action Taken Report was tabled on the floor of the House on April 17, 2012.