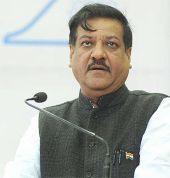 Racing against time to become a member of the Maharashtra legislature, Chief Minister Prithviraj Chavan has decided to contest the state legislative council elections.
Chavan, who was made the chief minister on November 11 last replacing Ashok Chavan, himself announced that he would like to become a member of the upper house.
With three months already over, Prithviraj Chavan has to race against time as it is statutory for a chief minister or a minister to become a member of either house within six months of taking oath.
Prithviraj Chavan is the first chief minister of Maharashtra who has not worked at the state level either in the government or the organisation and had been active in national politics after becoming a Lok Sabha member way back in 1991.
He was elected thrice from Karad Lok Sabha constituency, once a family pocket-borough represented by his late father D R alias Anandrao Chavan from 1957 till his death in 1973.
Chavan's mother Premlatai represented the seat till 1991 when he entered politics at the instance of Rajiv Gandhi.
64-year-old Chavan lost the 1999 elections held after Sharad Pawar broke away from the Congress and formed the Nationalist Congress Party.
He was later twice member of the Rajya Sabha.
As there is no vacancy in the Maharashtra legislative council, a Congress member will have to resign from his seat to pave the way for the chief minister's entry in the upper house.
Image: Maharashtra CM Prithviraj Chavan