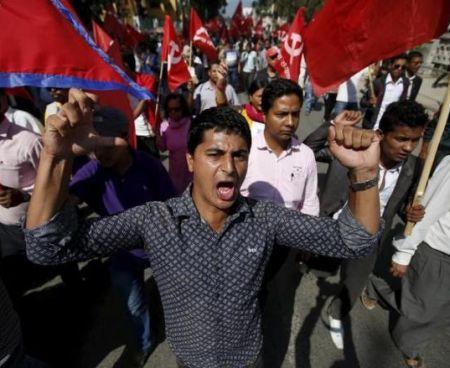 In fresh trouble for Nepal government, a coalition of seven Madhesi parties and around two dozen ethnic groups on Friday announced to re-start protests to press for their demands relating to more rights, adequate representation and re-demarcation of provincial boundary.
The agitating parties will launch protest rally in Ratnapark of Kathmandu on Saturday and sit-in in front of the Singhdurbar Secretariat, the main government administrative complex, for indefinite period starting from Sunday.
After launching six-month long anti-constitution protest programmes in the southern border of the country last year, the alliance has now changed their strategy and focused on capital city in an attempt to draw attention of the government and other stakeholders to their demands.
Their major demands include re-demarcation of the seven province model of federal structure, inclusiveness and proportionate representation of marginalised groups and ethnic minorities including the Madhesis, indigenous groups and Dalits in all the state bodies.
Announcing their agitation programme at a press meet in Kathmandu on Friday, they rejected the first amendment to the constitution saying it failed to address their demands.
The recent political appointments to various positions and the appointment of 21 ambassadors by the Leftist coalition government shows that the amendment has failed to incorporate their demands relating to inclusiveness, they said in a joint statement signed by Federal Socialist Party president Upendra Yadav.
Over 50 people lost their lives during months-long agitation by the Madhesis which also saw blockade of Nepal's all trading points with India, resulting in huge shortage of essential commodities and souring Indo-Nepal ties.
Madhesis, mostly of Indian-origin, wants the government to rewrite the Constitution so that the concept of secularism, identity-based proportional inclusive representation and federal democratic republic status to Nepal could be constitutionally ensured.