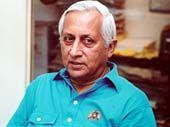 Retired Lt General K S Brar, who had led "Operation Blue Star" 28 years ago to flush out pro-Khalistani militants in the Golden Temple, was attacked in central London on Sunday night by four knife-wielding assailants, inflicting injuries on him.
78-year-old Lt Gen Brar, a Z-category protectee, was returning to his hotel from a dinner along with his wife. A television channel quoted her as saying that three bearded men attacked and tried to slash his throat. But she would not jump to the conclusion that they were Sikhs.
He was rushed to a hospital from where he was discharged on Monday after a surgery and his wounds were stitched.
The identity of the assailants was not known nor was it clear whether the attack had anything to do with his role in the "Operation Blue Star".
Sources said the incident took place at 0100 IST on Old Quebec Street near Hyde Park when Brar was out with his wife.
The couple are in London on a private visit. Gen Brar was attended by the London Ambulance Service (LAS).
The Military Attache in the Indian High Commission in London visited the hospital and enquired about the condition of the decorated officer.
External Affairs Minister S M Krishna, who is in New York, condemned the attack on Brar.
"The Indian High Commissioner was in Manchester and has rushed back to London after the incident. He had called on Brar who is out of hospital and will be leaving for India tomorrow," Krishna told PTI.
"We have conveyed our concern and the matter will be taken up with the British government," Krishna said.
Brar had not informed the Indian embassy or the mission and nobody knew that he was in London. Brar was on a private visit and hundreds of such visits take place, he said.
Scotland Yard told PTI that investigations were on but no arrests had been made so far.
A Yard spokesman said: "Officers and LAS attended the scene and discovered a man, aged in his 70s, suffering from an injury believed caused by a knife".
He added: "The man has been taken to hospital where he remains in a serious condition, his injuries are not believed to be life threatening".
Krishna had called up the Indian High Commissioner J Bhagwati to know about the condition of Gen Brar, who has been on the hit-list of various extremists organisations after his central role in Operation Blue Star in 1984.
The operation was aimed at flushing out Sikh terrorists led by Jarnail Singh Bhindrawale from the Golden Temple, who was demanding a separate state for Sikhs called Khalistan.
Gen Brar is a decorated soldier who had seen action in the 1971 war with Pakistan. He was among the first to enter Dhaka when the Indian army forced Pakistani army into surrender.
General A S Vaidya who was the Army Chief in 1984 planned the highly controversial Operation Blue Star.
In 1986 Vaidya was shot dead in Pune.
Image: Lieutenant General K S Brar