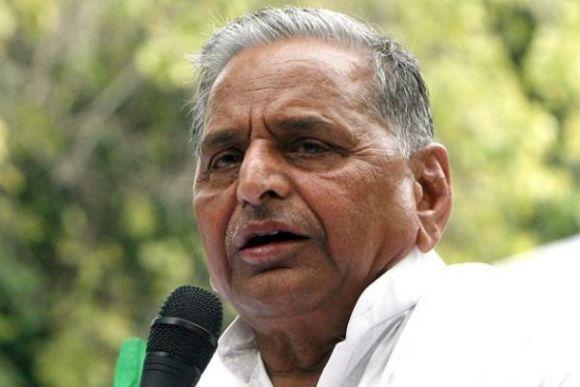 Samajwadi Party chief Mulayam Singh Yadav on Monday held a meeting with the party's unsuccessful Lok Sabha nominees to find out the cause of its dismal performance in Uttar Pradesh, where it bagged only five of 80 seats.
At the meeting, also attended by UP chief minister and party's state unit president Akhilesh Yadav, the SP candidates have been asked to give in writing if they had any problem in the run up to the Lok Sabha polls.
Special Coverage: Election 2014
"They tried to know what went wrong...," UP minister Vinod Kumar Singh alias Pandit Singh, who himself lost from the Kaisergan seat, told mediapersons.Another candidate Atiq Ahmad, who lost from the Sharavasti seat, said the leadership wanted to know the problems for which the party faced such a defeat. Both Singh and Ahmad, when asked whether someone would owe the responsibility for the party's defeat, said that there were no such talks in the meeting, which was restricted to knowing the ground reality.
During the meeting, sources said, a number of candidates rued the lack of coordination among party functionaries, while some complained about the role played by some police and administration officers.
Yadav, who was nursing the ambition of a big role at the Centre before the polls, is likely to sack some ministers and include new faces in the Akhilesh cabinet and overhaul the party organisation, but he did not signal his future course of action.
The ruling party in the state was reduced to five seats in the polls, with the Bharatiya Janata Party and its ally Apna Dal bagging 73 and Congress just two seats. Among the five seats, Yadav himself won from two seats -- Mainpuri and Azamgarh. The other three are Kannauj, Badaun and Firozabad clinched by his daughter-in-law Dimple Yadav and nephews Dharmendra Yadav and Akshay Yadav respectively.
In a face saving statement, the party said its position was better than other parties like the Congress and the Bahujan Samaj Party and claimed that there was only a slight dent in its vote share.
"The SP got 22.26 per cent votes, while in 2009 it got 23.26 per cent votes," party spokesman Rajendra Chowdhury had said.