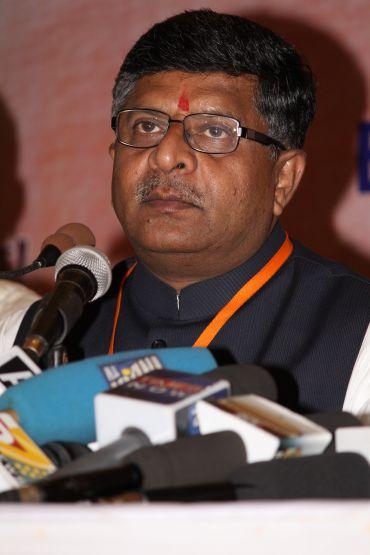 The establishment of a National Judicial Commission to give the Executive a say in appointment of judges and setting up a special investigation team on blackmoney stashed abroad are the priority areas for the Modi government, newly-appointed Law Minister Ravi Shankar Prasad said.
Prasad, who took charge as Law Minister on Tuesday morning, also said increasing the strength of judges, improvement of court infrastructure to make justice more accessible and making India a hub of international arbitration and reconciliation cases will also remain his priority areas.
Responding to questions on the move of successive governments to replace the present collegium system where judges appoint judges, Prasad, who is himself a lawyer, said establishment of National Judicial Commission is part of the Bharatiya Janata Party's manifesto. "Surely I will go through the existing instrument which is there. If there is a need for some improvement or some more consultation, we may consider it. But today, I will have to go through it in some more detail," he said.
A parliamentary nod eluded the Judicial Appointments Commission Bill despite the United Progressive Alliance-II government in its last days agreeing to the demands by jurists and BJP to grant constitutional status to the proposed commission for appointment and transfer of judges to the higher judiciary to ensure that its composition cannot be altered through an ordinary legislation.
The practice of judges appointing judges started after 1993, replacing the system of government picking judges for higher judiciary comprising the Supreme Court and high courts.
Responding to posers on blackmoney and SC granting more time to the government to form an SIT on the issue, Prasad said the issue of blackmoney is part of BJP's manifesto.
"A proper SIT for blackmoney, taking all the initiatives will be priority area," he said. He, however, said since it is his first day in office, he will have to go through the issues in detail with his officers.
On the issue of Lokpal, he said the Bill was passed by Parliament after 'finer' improvements by the Select Committee of the Rajya Sabha. "I will also have a look at it in my new role as the law minister and surely I will revert to you," he said.
When asked about death penalty, he said it is an issue on which there are a lot of views -- for and against. He said to the best of his knowledge, there were differences among some Supreme Court judgments too. "Therefore, a larger view has to be taken by consultation... many judgments have different views about it. That has to be seen," he said.
Asked about the new government's stand on gay sex, Prasad said, "I will have to examine what is the nature of Supreme Court directions."