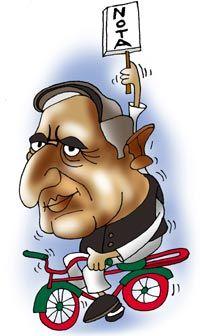 No show against Sonia has payback in Delhi, SP tells followers. Illustration: Uttam Ghosh/Rediff.com
The Samajwadi Party has been asking its voters to opt for NOTA (None Of The Above) option in Sonia Gandhi's Rae Bareli parliamentary constituency.
And thereby hangs a tale.
SP supremo Mulayam Singh Yadav, as a goodwill gesture, did not put up a candidate against Sonia, but the move has demoralised Samajwadis in Rae Bareli as they are unable to explain why she has not been challenged.
But Mulayam's son Akhilesh Yadav has found a way to respond to it.
The Uttar Pradesh chief minister has claimed Congress support for a 'Third Front' government at the Centre, because of which Sonia has been left alone.
Yadav Jr says after May 16 the Congress will support a non-BJP regime which may be headed by a regional player.
in his campaign outside Rae Bareli, Akhilesh asks voters to choose Samajwadi Party nominees so that Netaji's prospects becoming prime minister brighten.
But given Narendra Modi's march in Uttar Pradesh, the Yadavs may be living in an imaginary paradise.