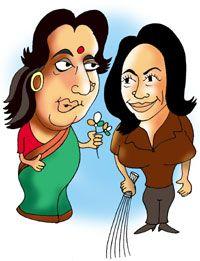 A candidate's name may well hold the key to electoral success, it seems. Illustration: Uttam Ghosh/Rediff.com
What's in a name? That which we call a rose by any other name would smell as sweet. The Bard's observation, it seems, has much relevance in Indian politics.
In the midst of the election campaign, we find that Moon Moon Sen has become Mrs Dev Verman.
The actress, who is contesting the Bankura seat in Bengal as a Trinamool Congress nominee, has reasons to opt for her married name.
Bankura has a sizeable number of tribal votes and hubby Bharat 'Habbi' Dev Verman belongs to an influential tribal royal family.

Chandigarh's Aam Aadmi Party nominee Gul Panag has become Gulkirat Kaur Panag, apparently to avoid sounding like a Muslim.
And in parts of the Gurgaon parliamentary seat, AAP's Yogendra Yadav is flaunting his nickname 'Salim' in the Muslim-dominated Mewat region.
Yadav claims his father and close family have been calling him 'Salim' since childhood.
Looks like the love for votes too smells really sweet!
Friday's Gupshup: It's Chouhan, not Modi
Thursday's Gupshup: Why Jaitley doesn't want SS
Wednesday's Gupshup: How Salman is beating the election heat
Last Tuesday's Gupshup: Behind Paresh Rawal's rise is the wife
Last Monday's Gupshup: Assam Congress sends SOS for Dr Singh