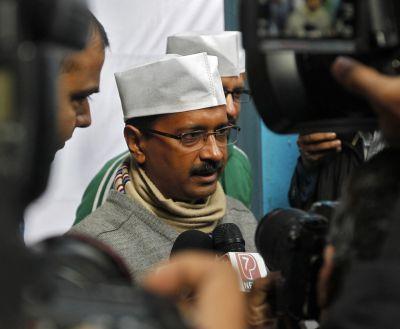 Aam Aadmi Party chief Arvind Kejriwal on Wednesday attacked Narendra Modi over his Gujarat development story and claimed there is no 'wave' in favour of the Bharatiya Janata Party's prime ministerial candidate anywhere in the country.
"Since last year I have been hearing that there is a Modi wave in the country. I went to Haryana, I could not see any Modi wave there. I went to Uttar Pradesh. There also I could not see any. I have come to Mumbai. Here too I cannot see a Modi wave," Kejriwal said. He was addressing a public meeting in suburban Vikhroli in Mumbai.
"Yes, however there is a wave. But the wave is of anger among people. We don't want to bring in the BJP by ousting the Congress. People want to change the system. People have decided to bring honest politics in the country. People see a ray of hope in AAP," the former Delhi chief minister said.
Kejriwal criticised a section of the media for opinion polls forecasting the AAP's dismal performance in the Lok Sabha elections.
"There were these channels which said that AAP will get 4-5 seats, but we got 28 seats in the Delhi Assembly. There will be a miracle in Parliament this time. People have made up their mind to defeat Rahul Gandhi, Sonia Gandhi, Narendra Modi, Kapil Sibal, Nitin Gadkari and B S Yedyurappa," he said.
The AAP chief, who got back from his tour of Gujarat to verify Modi's development claims, said as many as 800 farmers have allegedly committed suicide in that state during Modi's rule.
"In Gujarat, 60,000 small scale industries have shut down. The media criticises me and says that he had conflicts with Kumar Vishwas. We will sort out our issues. But show the reality in Gujarat. They (media) will never utter a word against Modi," Kejriwal claimed.
Taking a jibe, he said if Modi became the country's prime Minister, his cabinet would include Amit Shah as home minister, Yedurappa will be the mining minister and Saurabh Patel will become the petroleum minister.
Kejriwal said only the AAP could dispense honest government and eradicate corruption in the country, claiming that for the first time people were "sad" after a chief minister resigned. "The BJP says Arvind Kejriwal has ran away. I would like to say, where I have run? I am very much here. We practise the politics of principles," Kejriwal said.