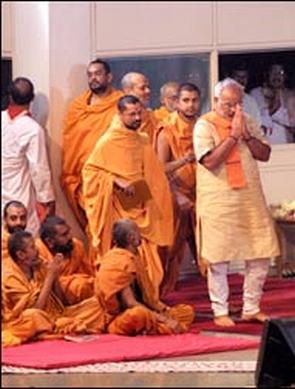 Even as both the ruling Samajwadi Party and its bête noire, the Bahujan Samaj Party may swear in the name of secularism, neither of the two critical players in Uttar Pradesh politics is willing to go for a united nominee against their common political foe, Narendra Modi, who seemed cocking a snook at them from Varanasi. Sharat Pradhan reports
There were many -- particularly Muslims, who seemed to wonder why other political parties do not leave the turf in this key constituency free for Aam Aadmi Party leader Arvind Kejriwal, who formally announced his candidature from there Tuesday.
However, while the issue was being debated throughout the day in Varanasi, UP Chief Minster Akhilesh Yadav ruled out the question of not fielding any SP nominee from Varanasi.
"We cannot allow this impression to be carried that we did not fight against Modi," he asserted, while adding, "After all, the Samajwadi Party is the most potent secular force in the state, and we are capable of giving him a run for his money."
BSP supremo Mayawati had also already made her stand loud and clear on the issue. "We are not going to enter into any kind of alliance or understanding with any political party anywhere in the state," she told media persons in Lucknow.
Mayawati, who has of late been particular about projecting that her party alone was capable of taking the Modi juggernaut by the horns, does not find the suggestion of a united fight against Modi in Varanasi as practical.
Asked to comment on the issue, Kejriwal did not look surprised.
"I had maintained from day one that we are committed to fight against an undesirable Modi; and we do not need any other political party's crutches to battle it out," he said. He went on to add, "We are not gong to ask anyone to come to our support, but if someone offers support, we have no problem."
While all other key political parties have declared their candidates from Varanasi, the Congress high command is yet to open its cards. Nomination by a local political outfit -- Qaumi Ekta Party's mafia don turned politician Mukhtar Ansari, who had managed to finish second behind BJP's Murli Manohar Joshi in the 2009 Lok Sabha polls, is also expected shortly.
Image: BJP's PM candidate Narendra Modi