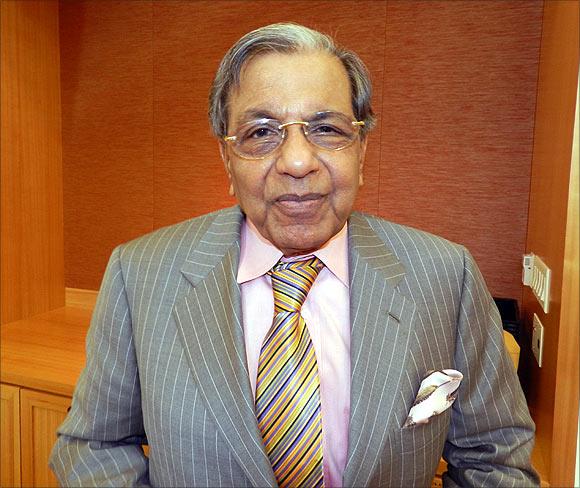 N K Singh, a Janata Dal-United member of Parliament, quit the party on Friday amidst indications that he would join the Bharatiya Janata Party.
Seventy-three-year-old Singh, a former bureaucrat whose term in the Rajya Sabha is coming to an end shortly, had joined the JD-U and was elected on the party ticket to the house of elders. He has written a letter to Bihar Chief Minister Nitish Kumar conveying his decision to quit and the reasons for it but refused to disclose them.
Singh expressed disappointment over the current situation in Bihar, saying ever since the JD-U broke ties with the BJP last year the issue of development has taken a back seat.
He said he had told the chief minister that his government was now more focussed on political survival rather than development of the state.
Singh said he had joined the JD-U at a time when the government was involved in spectacular work on the matrix of development in Bihar.
As speculation was rife that he could join the BJP, he admitted that he has held discussions with senior leaders of the party. He recalled his working under former PM Atal Bihari Vajpayee in the prime minister's office and said strong foundations for economic development were laid then.
Outgoing JD-U member of Rajya Sabha NK Singh on Tuesday lodged a strong note of dissent against party leader Nitish Kumar by saying that it was the National Democratic Alliance as a whole and not the Bihar CM alone who could be given credit for the recent recovery of the state. He gave indications of his rift with Kumar when he delivered his farewell address in the Rajya Sabha last month, when he said the credit for far-reaching economic and social changes in Bihar cannot be given to one person or party.
"It is the outcome of the joint efforts of the NDA to which party (BJP) was an alliance partner till June last year. And the collective political leadership of both the parties played a crucial role in bringing about these far reaching changes," he had said.
Image: Rajya Sabha MP N K Singh