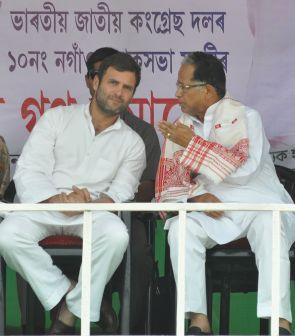 Congress Vice-president Rahul Gandhi on Saturday reiterated that the Bharatiya Janata Party's prime ministerial candidate Narendra Modi was pro-industrialists and did not bother about poor farmers.
Addressing a party's election rally in Nagaon, a hub of agriculture and horticulture products in Central Assam, Rahul Gandhi said the Congress party would continue with its pro-poor policies while appealing to the people to help the party retain power in New Delhi.
Accusing the BJP of selling out to corporate houses, Rahul alleged that Modi as Chief Minister of Gujarat had compromised on the interests of farmers for big industrial houses.
"Narendra Modi says he will bring about development. But his development is meant for only big industrialists," he said.
"You may not know here that Modi gave away farmers' land at throwaway prices to big industrialists like Adani in Gujarat. Congress can never do such a thing that will compromise on the welfare of our farmers," Rahul added.
On Modi's vote appeal to appoint him as the 'chowkidar' (watchman) of the nation's wealth, the Congress leader said, "When we retain power, we will appoint him as a chowkidar. But whether he is capable of performing up to the mark we will decide later."
Rahul also alleged that women were not given prominence in Modi's election campaign and his promise for women empowerment was hogwash.
Reiterating the United Progressive Alliance government's schemes and programmes, like MGNREGA and RTI, Rahul said the Congress was a pro-poor government and would continue with its welfare programmes, if it was reelected.
He said there was need to develop industries in all corners of the country and said his party had drawn up a plan to replace 'Made in China' products with locally made products.

"We see 'Made in China' on T-shirts and shoes now. We want to replace it with 'Made in Assam' and 'Made in Nagaon'," he said.