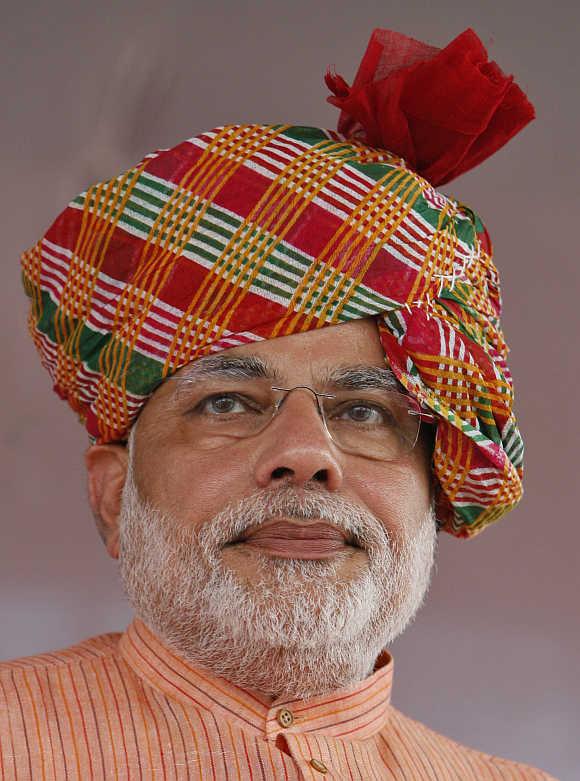 In his first speech at Rajasthan's Barmer, from where expelled Bhartiya Janata Party leader Jaswant Singh is contesting as an independent, party's prime ministerial candidate Narendra Modi did not utter a single word against the former party stalwart.
Similar to his usually long speeches made while addressing party supporters during rallies, Modi on Saturday spoke for almost 45 minutes where he highlighted the Gujarat government's achievements and also attacked arch-rivals Congress vice president Rahul Gandhi, Robert Vadra and also former Punjab chief minister Amarinder Singh, but spared Jaswant Singh.
Jaswant Singh, a former Union minister, had filed his nomination as an independent candidate from Barmer when BJP favoured Colonel Sonaram Choudhary over him. Choudhary had joined BJP from Congress just three days back.
After some disturbances, the BJP finally decided to expel Jaswant, and on the eve of Modi's first rally at Barmer, the party also suspended Singh's son Manvendra Singh, a party MLA, for "indulging in anti-party activities".
However, on Saturday it was neither Jaswant Singh nor his son who were on Modi's firing line as the Gujarat chief minister trained his gun on Amarinder Singh, against whom his colleague Arun Jaitely is contesting in Amritsar.
"The media is not paying attention to the fact that Amarinder Singh has not revealed his bank account details in his affidavit submitted to the Election Commission," Modi sought to point out.
Modi also mocked Rahul Gandhi for comparing "Dhoom movie sequels" with BJP's "India Shining" campaign.
"Sometime back, shahzade (as he mentions the Gandhi scion) came here (Rajasthan) and talked about Dhoom 3. In Dhoom 3, it was all about the art of motorcycle, which has a connection with shahzade. Remember he came to Gopalgarh on a motorbike without informing (then Congress chief minister of Rajasthan) Ashok Gehlot," he said.
Modi also took a dig by saying, "During Gehlot's tenure, Rajasthan government couldn't do much on (generating) solar power but worked on increasing damaad (read Robert Vadra) power".
The BJP's PM candidate also sharpened his attack on the Congress and said, "Since the last ten years, the Congress has used all the agencies against Modi, whether it was IB (Intelligence Bureau) or the CBI (Central Bureau of Investigation), but they could not do anything to me."
"Now, neither they have any agenda on how to remain in power nor any plan to stop Modi from becoming the prime minister," he said, and warned, "Let May 16 come and then these people will be sent to their actual place."
The Gujarat chief minister also mentioned that how he brought water in Kutch area in his state and such steps will also be taken in the Barmer region.
"And it is not only water but the region could be strengthened with petroleum and gas. I have studied a lot about it. In Pakistan, the petroleum and gas production has increased. So when they can do it, why can't we?" he said.
Addressing the rally near the India Pakistan border, where several Pakistani Hindu migrants stay, Modi also raised their citizenship issue. "The people who do vote bank politics make citizens out of Bangladeshi migrants, but do not care about the Pakistani migrants who have to leave their country following atrocities," Modi charged.