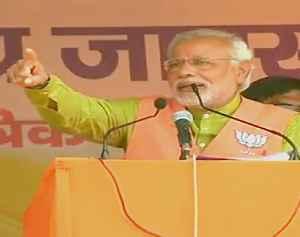 Bharatiya Janata Party's prime ministerial candidate Narendra Modi on Wednesday campaigned for the party's 'bahubali' (muscleman) candidate Satish Chandra Dubey in Bihar's Valmikinagar parliamentary constituency.
Dubey faces a dozen criminal cases including those of attempt to murder, kidnapping, extortion and a few under the Arms Act, according to the affidavit filed by him before the Election Commission.
On Wednesday Modi sought support and votes for Dubey while addressing a campaign meeting at Rajnagar in Bagaha, that falls in the Valmikinagar seat.

"Modi has appealed to the electorate to vote for BJP candidates including Dubey in the fray from Lok Sabha seats in East and West Champaran districts," Amit Tiwari, a resident of Bagaha, told Rediff.com over telephone.

Dubey, a BJP MLA, was fielded to contest the parliamentary polls despite some reservations expressed against him by several top party leaders.

A confidential report of the Sashastra Seema Bal has now surfaced that reportedly says Dubey was part of a syndicate that controls the entire smuggling of 'ganja' and 'charas' in the eastern part of Champaran district. However, Dubey told ndtv.com: 'I'm not aware of any such thing and no one, including the SSB, has approached me to know my version and till now no one from the police has got in touch with me. This letter could be a figment of imagination of some officer.'
Last week, Modi campaigned for another BJP 'bahubali' candidate Nityanand Rai contesting from Ujiyarpur Lok Sabha seat. Rai, another BLP MLA, faces cases of murder, kidnapping and extortion.

Interestingly, Modi last month blamed the Congress for criminalising politics and said that if voted to power he will set up special courts to try the tainted MPs and legislators and send the guilty behind bars within a year.
Image: Video grab showing Narendra Modi addressing a rally in Bihar's Valmikinagar on Wednesday