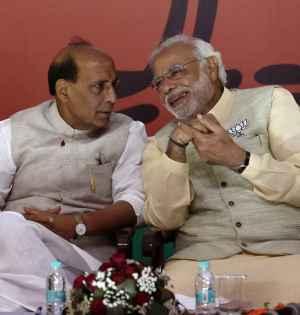 The entire campaign in Lucknow is based on Narendra Modi -- there is little mention of the BJP candidate, a certain Rajnath Singh.
Some locals wonder, 'Rajnathji is not coming to campaign in Lucknow. How will he take care of this city after he wins?' Syed Firdaus Ashraf/Rediff.com reports from Lucknow.
Lucknow these days is all about 'Ab Ki Baar Modi Sarkar'.
Narendra Modi is omnipresent. The local FM radio channel mentions a girl asking her friend why she is fiddling with the electricity switch when there is no power in the house, to which the other girl replies, 'I am practicing because very soon we will have 24 hours electricity as Narendra Modi is going to become prime minister.'
The Bharatiya Janata Party's election campaign in Lucknow revolves around Modi. There is little mention of the BJP candidate -- a certain Rajnath Singh, the BJP's national president and someone, who Lalu Prasad Yadav claimed in a newspaper interview on Monday, harboured ambitions of being the prime minister himself.
Modi is apparently so confident about Rajnath Singh's victory that he has not visited Lucknow after the first week of March.
Rajnath Singh has hardly campaigned in Lucknow either.
Asks Anup Srivastava, a bank employee, "Rajnathji is not coming to campaign in Lucknow. How will he take care of this city after he wins?"
Pankaj Singh, Rajnath Singh's son and a BJP general secretary, says, "It is wrong to say my father has not been seen in Lucknow. He has addressed two rallies daily in the city and met almost every cross section of society." (Watch Pankaj Singh video here).
Rajnath Singh won the 2009 Lok Sabha election from Ghaziabad. He gave up the seat for former army chief General Vijay Kishore Singh (retd) this election and moved to Lucknow, a constituency once represented by Atal Bihari Vajpayee.
In the contention for the seat this time was BJP veteran Lalji Tandon who was unwilling to give up his claim and only ready to accommodate Modi in his place. Inevitably, Tandon had to make way for the BJP boss.
Rajnath Singh will need the Brahmins to come out in large numbers and vote for him if he wants to win Lucknow. Brahmins in UP, observers say, are upset that the BJP (read Amit Shah, Modi's man in charge of UP) has pushed around senior Brahmin leaders like Dr Murli Manohar Joshi and Kalraj Mishra.
Pankaj Singh takes care of the nitty-gritty of his father's campaign.
Surrounded by more than two dozen supporters Pankaj Singh -- who is married to champion shooter Jaspal Rana's sister Sushma Rana -- issues instructions on how to proceed with the campaign each day.
"My father never has negativity in his thoughts," Pankaj Singh tells Rediff.com "He believes in hard work and always takes everyone along with him."
Asked about Brahmins in Uttar Pradesh being upset with Rajnath Singh and the BJP, Pankaj Singh says, "These are make-believe issues. The opposition has no issue left against my father, therefore they are raking up such issues."
Rajnath Singh is doing everything to expand his acceptability quotient. Last week he called on Narain Dutt Tiwari, the only man to be chief minister of two states in India, Uttar Pradesh and Uttrakhand. Earlier this month, he met the prominent Shia cleric, Maulana Syed Kalbe Jawad Naqvi, who endorsed him over Modi for the prime minister's office if the BJP formed the government. Maulana Naqvi said Muslims fear Modi.
"It is a perception that Rajnathji is like Atalji," says the candidate's son. "Be it Narendra Modi or (L K) Advaniji I feel they have never said anything wrong against anybody, but always spoken about taking everyone along with them."
Pankaj Singh feels the Muslims in UP are "very much supporting the BJP," adding, "even in Varanasi I am very confident Muslims will support the BJP and history will be made."
Image: Rajnath Singh, the BJP candidate in Lucknow, which goes to the polls on April 30, with Narendra Modi, the BJP candidate from Varanasi, which goes to the polls on May 12. Photograph: Anindito Mukherjee/Reuters