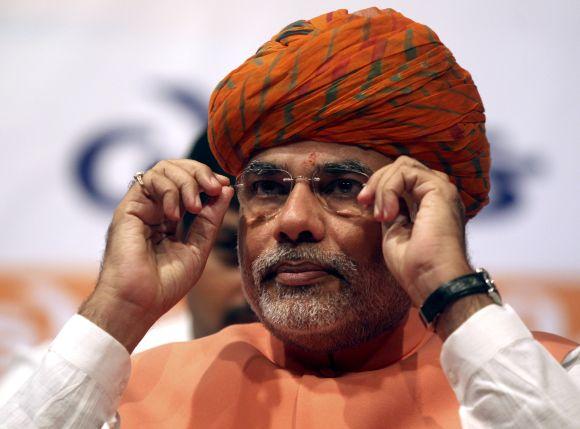 The Bharatiya Janata Party's prime ministerial candidate Narendra Modi on Friday attacked External Affairs Minister Salman Khurshid for his criticism of the Election Commission and the Supreme Court, accusing him of denigrating the country's two most respected institutions on the foreign soil.
Modi said Khurshid's attack on the EC and the SC was part of the "larger destruction" of democratic institutions under the United Progressive Alliance government as he accused it of abusing the offices of the Central Bureau of Intelligence and Governors like no other govenment had done in the past. It attacks the CAG and the EC if their work does not suit it, he said.
Speaking at a lawyers' meet, Modi said the job of the external affairs minister is to enhance the country's pride outside but Khurshid was doing exactly the opposite by criticising both the institution in London.
"This minister was earlier law minister and before that a lawyer as well. What kind of things does he say? He says how can a three-judge decide together that criminals can't fight elections. He has also abused the EC and says how can three people decide what political parties have to say," Modi said in a stinging criticism of Khurshid.
Stating that foreign investors trusted the Indian judiciary when they compared the country with other Asian countries, he said adding the minister was training his guns at the two institutions of which Indians are proud the world over.
"It does not mean that our institutions don't have fault or they don't need any correction but this is no way of doing it". "The biggest strength of democracy is sanctity of institutions. There should be some respect towards each others... The government in Delhi is determined to destroy all of them," he said.
Khurshid's attack on the EC and the SC, Modi said, was an "exercise in inventing reasons for the defeat the ruling party will suffer in the polls".
"I thought long and hard about why he said such things... I think he has started looking for arguments about the election results. After all, he is a lawyer," he said. The image of politicians, he said, is not great and if others institutions are all attacked, then it's a cause for concern.
He said Indian laws are at the root of too many litigations and the country lacks the proper drafting ability which is required to enact laws, making the existing ones ambiguous. Like BPOs, India can do well in Legal Process Outsourcing, he said, if an emphasis is put on it.
He reiterated that he wanted every family in India to have a house by 2022, when 75 years of freedom arrive. "This is my vow not dream. This is my intention, not promise. By 2022, the poorest among the poor should have their houses with electricity, water and toilet...," the Gujarat chief minister said. PTI KR
Meanwhile, Khurshid denied mocking any institution in the country. "I did not mock. What I said is a serious concern if you are discussing issues about democracy," he told reporters on the sidelines of the Commonwealth Ministerial Action Group meeting at the Commonwealth Secretariat.
During a lecture at the School of Oriental and African Studies on 'Challenges of Democracy in India' on Wednesday, Khurshid had referred to the Election Commission's
Model Code of Conduct as being overly restrictive on election campaigns inviting flak from opposition parties.
"I have a view that others may have or not. My view is that instead of breaking the code of conduct, I want to talk about the code of conduct. Surely, the code of conduct doesn't say that you can't have a difference of opinion. I think the SOAS is the right place to be talking about this," Khurshid said.
Stressing that the code of conduct was a "consensual" agreement, he said: "It is about ensuring that I must not use my office to influence people...I am not saying if it is correct or not, all I am saying is that we must discuss it a little bit. I hold them (Election Commission) in high respect. They are very good friends. But I probably can't even say they are very good friends because that violates the code of conduct.
"Some of them I've known for 30 years when they were young civil servants. Today they have an office and I must respect their office and I hope they respect my office," Khurshid said. In reference to the Supreme Court, Khurshid had pointed out that mostly two or three out of a total of 31 judges pass judgements on major issues.
"I've worked in the Supreme Court for 30 years...I have been pushing that courts must sit in larger benches. This is something that is not easy to resolve due to various factors...but if I don't discuss this as part of Indian democracy, what am I going to discuss. Where did I mock anything," he said.
The minister was in the United Kingdom to attend the 43rd CMAG meeting, which issued a joint statement welcoming significant progress in Fiji's plans to hold national elections by September 2014.
The members declared a commitment towards reinstating the country as a Commonwealth member following credible elections. Fiji remains suspended from the 54-member group over a lack of democratic process.