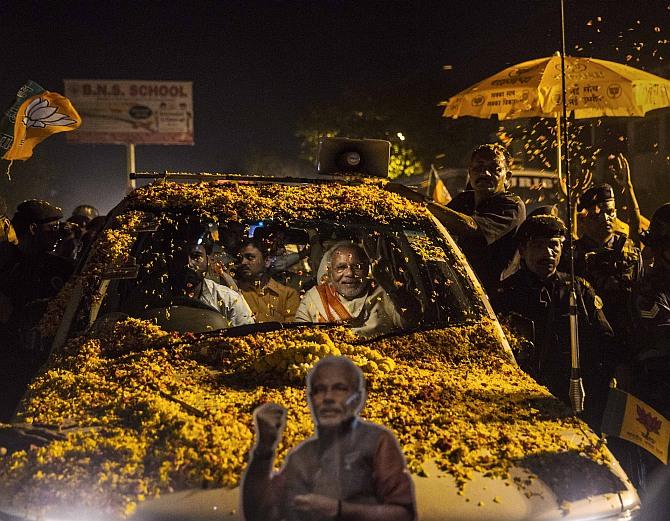 Narendra Modi Thursday launched an all-out war on the Election Commission accusing it of working "under pressure" and showing bias against him and took out a roadshow defying prohibitory orders over the denial of permission for him to hold a rally in Varanasi.
Modi today took blessings from local priests and elders here after an over five-hour drive-through in this temple town following cancellation of a rally and a Ganga pujan programme.
Modi reached his central election office for Lok Sabha polls late on Thursday night after driving through the city in his motorcade which took more than five hours on a route that normally takes just about half an hour.
People queued up in large number on both sides of his route, making it difficult for the motorcade to move.
Before proceeding to the airport, Modi spent some time at his election office where he thanked party workers and local leaders while priests also performed an 'aarti' for him, BJP leaders present there said.
Modi also took the priests' and other elders' blessings, they said, adding some Muslim leaders had also come to meet Modi.
On a day, Modi, who is contesting from Varanasi, and other top BJP guns traded heavy fire, the Election Commission called a special press conference to reject accusations of bias and made it clear that it was "not afraid of anyone, any political party or any entity" in doing its job.
Capping an acrimonious day, Modi landed at the Banaras Hindu University campus helipad, near the venue of the party protests, and held an undeclared 5 km roadshow to the main BJP election office in Sigra, where a large number police and Rapid Action Force personnel were deployed.
All along the route, he was greeted by saffron-cap wearing supporters, who kept on chanting 'Modi, Modi, Modi' as the cavalcade made a slow progress to the venue of a meeting where he held closed-door discussions with senior leaders, workers and intellectuals.
Additional District Magistrate (City) M C Singh said prohibitory orders under Section 144 of Cr PC have been imposed in the city.
Right from the morning, the BJP brass, including Arun Jaitley and Amit Shah, attacked the Commission by holding protests outside the Banaras Hindu University and near the Commission's headquarters in Delhi demanding the removal of Pranjal Yadav, Varanasi Returning Officer for his "partisan approach".
"It is unfortunate 5that the EC is not concerned about the institution's neutrality. That is why our 'karyakartas' (workers) have to embark on a satyagraha," he wrote on Twitter before embarking on a day-long campaigning in Eastern Uttar Pradesh.
He continued his criticism of the EC in the meetings. Addressing a rally on the outskirts of Varanasi, he escalated his attack saying the Commission was working "under pressure" but did not elaborate.
"The Election Commission should do introspection. I don't know under whose pressure they are working. My speech is not so important because people will get my message even through my silence," Modi said in an apparent reference to the denial of permission to address a meeting in Beniabagh, said to be a communally-sensitive spot in the city.
The BJP had applied for an alternative site but later spurned the permissions given to it hold a rally in another place. But the party insisted on holding it only in Beniabagh and turned all its guns on the EC.
Modi told the Congress that people have decided to defeat the party and "EC cannot make you win".
On the security reasons cited for denial of permission, he said the government need not worry about his security as he was ready to die for his country.
"Still, it is an attack on my democratic rights. Should I not get rights that every other candidate is entitled to get. I have been denied permission to meet mother Ganga too," he said, while promising to come back for Ganga pujan soon.
He claimed he was being targeted for last 14 years and even Central Bureau of Investigation has been left after him.
Image: BJP leader Narendra Modi flashes the v-sign to supporters as he is surrounded by bodyguards while driving through the streets of Varanasi

Photograph: Kevin Frayer/Getty Images