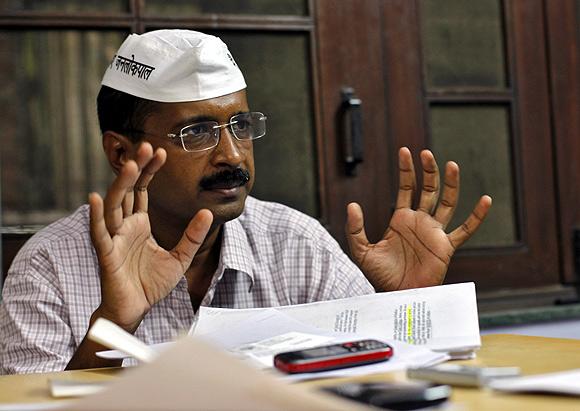 Aam Aadmi Party chief Arvind Kejriwal accused the Bharatiya Janata Party of instigating violence in front of its headquarters in Delhi even as he apologised for some AAP activists "retaliating" while protesting his detention.
Kejriwal claimed that AAP workers were first attacked by BJP supporters. Some of the agitated AAP workers had responded by pelting "two or three stones", he told media persons in Bhuj.

"I am sorry for the mistakes committed by the AAP workers. They should not have resorted to violence on my detention," he said.
He also blamed BJP workers for attacking his entourage while travelling in Gujarat and said the glass panes of his car were broken.
Kejriwal asked his supporters to stay away from fights with BJP workers across the country as "this would divert the attention of the people from real issues."
He asked his workers to be ready to be "beaten up" in the run up to elections.
Earlier, Kejriwal's colleagues attacked BJP's prime ministerial candidate Narendra Modi after the violent clashes between AAP and the saffron party workers and said the Gujarat Chief Minister "knows no other way" to win election.
"In Lucknow, Delhi and Gujarat violence by BJP shows the restlessness of Modi over his greed of becoming prime minister. People of India will show them the way.
"Modi has a violent past and he knows no other way to win election. Feared of getting exposed on his bubble of growth he can go to any extent," party leader and former law minister Somnath Bharti tweeted after the incident.

Another AAP leader and party candidate from Chandni Chowk, Ashutosh alleged that police are taking orders from Modi.
"Police has badly beaten up AAP volunteer Pawan Pande in parliament street lock up. Police is taking orders from Modi?" he tweeted.