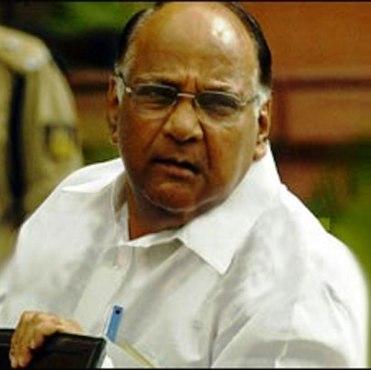 Nationalist Congress Party chief Sharad Pawar had "prima facie" violated the Model Code of Conduct by his 'ink' remark, the Election Commission said on Monday and asked him to explain his stand by Thursday evening failing which a decision will be taken without asking him further.
The EC issued a notice to Pawar for asking his party workers on Sunday to vote twice in the multi-phase polling in Maharashtra after rubbing off the indelible ink. "The Commission is, prima facie, of the opinion that by making the aforesaid statement you have violated the ... (sub para 4 of para 1) provision of Model Code," the EC wrote to the NCP chief.
The provision states that "all parties and candidates shall avoid scrupulously all activities which are corrupt practices and offences under the election law, such as bribing of voters, intimidation of voters, impersonation of voters..."
The poll body, acting on a complaint by Bharatiya Janata Party leader Kirit Somaiya, sent him a copy of the VCD carrying the speech he made in Navi Mumbai on Sunday. Pawar had on Sunday asked his party workers to take advantage of the multi-phase polling in the state by voting twice, first at their hometowns and then at places of work.
"Last time (in 2009), the polling in Satara and Mumbai was on the same day and people went to their hometowns. But this time, polling in Satara is on April 17 and here on April 24," Pawar had said, addressing a gathering of "mathadi" workers (head loaders) who hail from that district in Western Maharashtra.
Pawar, the student union activist-turned-national leader, however, warned voters to take necessary precautions. "Do erase the ink mark which will be put when you vote first," he had said. "Vote for the clock (NCP symbol) there (in Satara) and come back to vote for the clock here as well," he had said, to loud laughs at the gathering held in the APMC market in Navi Mumbai.
Pawar, however, had later told reporters in Mumbai that his statement was made in "a lighter vein and had a tinge of satire to it".