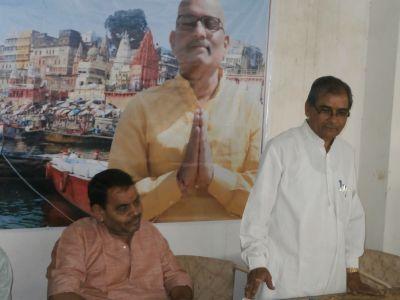 The Congress campaign is muted in Varanasi, but the party is hoping that anti-Modi votes and caste combinations will help Ajai Rai, the only local candidate in the fray.
A Ganesh Nadar/Rediff.com reports from the Congress campaign headquarters.
Ajay Rai is the Congress candidate chosen to fight Narendra Modi in Varanasi. He was in the news when his sworn adversary Mukhtar Ansari -- the runner-up in the 2009 election -- announced he would not contest this election so that anti-Modi votes are not divided. The Congress thinks this will make the Muslims vote en bloc for them.
Rai is also assured of the Bhumihar vote as he belongs to that community. He thinks he has the winning social combination. On the roads of Varanasi you only notice the Aam Aadmi Party and the Bharatiya Janata Party presence, but Congress workers insist that Rai will win.
Ajay Rai is out canvassing, but other Congress leaders answer our questions.
The Congress campaign office in Varanasi is not as crowded as the AAP office nor is it as large as the BJP office.
There are three huge halls spread over two floors in two buildings. On one floor youngsters arrange and account for flags, banners, caps, scarves, notices and other material needed for the campaign.
On another floor, party workers are engaged in an interesting discussion on who will go where to reach out to voters.
On the important floor sit party leaders. Press conferences are held here and the hall is cooled by ancient coolers. Congress leaders have come in from Allahabad and Maharashtra.
Uttar Pradesh Congress Committee General Secretary Satish Kumar Rai is a professor of political science at the Mahatma Gandhi Kashi Vidhyapeeth. "Our candidate is the only local. He is a son of the soil and he will be here to solve the people's problems. For the BJP this seat is meant for political tourism. They come here to win and will never come back."
"Last time they said Murli Manohar Joshi would become the deputy prime minister. This time they are saying their candidate will be the prime minister."
"The only time we saw Joshi was when there were floods and a bomb blast. Lal Bahadur Shastri is from Varanasi, but he never contested from here. His son Anil Shastri won from here with BJP support and never came back."
"Varanasi's identity has been lost in Parliament," says Professor Rai. "We had it when Raj Narain, Kamlapathi Tripathi represented us."
"If there is polarisation in Varanasi it is for Modi and against him," the professor adds. "Arvind Kejriwal is here to help him split the anti-Modi vote. Kejriwal knows that Modi doesn't need help to win in Gujarat so he is helping him here."
"AAP workers purposely provoke the BJP to get beaten up," alleges Professor Rai. "This is to show that the fight is between them only and we are not in the picture."
"Don't talk to me about AAP volunteers. They are workers on salary. They have been deputed here by NGOs to support Kejriwal. It is these NGOs who receive foreign funds," the professor claims.
"Our people are going from door to door. Every day we hold 24 public meetings with two national leaders addressing the public. We have road shows regularly."
"Did you see the crowds that (actress-turned-politician) Nagma got at her road show? Rahul Gandhi will undertake a padyatra, please come and see the crowd response."
Rajesh Mishra, a former MP from Varanasi, says, "This election is beyond the comprehension of the people of Varanasi. They have never seen such a hi-tech campaign."
"The BJP MP from here did nothing," Mishra adds. "The roads are bad, there is no drinking water, there is no power. We in the Congress have been waiting for this day. Modi doesn't know which street is where."
"Modi has no solution to any of the country's problems," the former MP says. "He only knows to lie. A liar is not fit to be prime minister."
Image: Congress leaders Professor Satish Kumar Rai and Rajesh Mishra at the Congress HQ in Varanasi. The man in the background photograph is Ajay Rai, the Congress candidate from Varanasi. Photograph: A Ganesh Nadar/Rediff.com