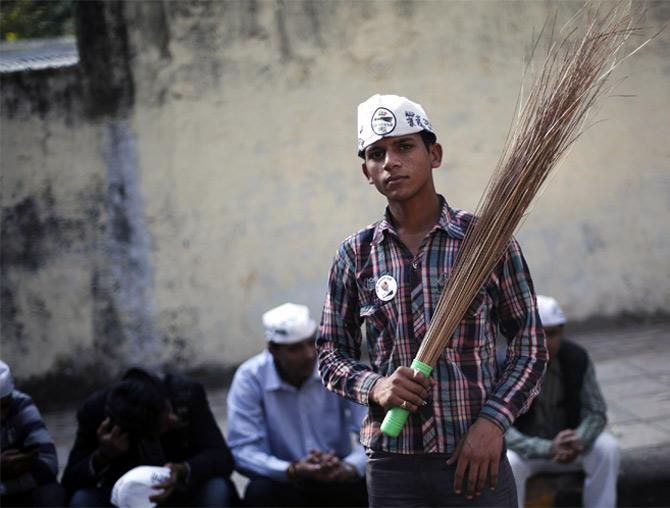 Until now, a bipolar contest has been taking place in the desert state between the BJP and the Congress, so it will be interesting to see how many AAP candidates taste success in reaching parliament, says Shahnawaz Akhtar.
The Aam Aadmi Party which will make its electoral debut in Rajasthan has managed to field 15 professionals out of the 22 names that have been declared so far. Of these contestants, one is a retired judge, an ex-director general of police (Border Security Force), on lieutenant general, a major, one colonel, four practicing doctors, two charted accountants, an engineer and four PhD degree holders.
"The AAP is a party that professes activism. It is advocating a new genre of politics and it has the vision of having participatory democracy and decentralisation of power in India. I have been a health activist so when I decided to take a political plunge AAP was my natural choice," Narendra Gupta, founder of Prayas, a non-governmental organisation, told Rediff.
Gupta is the party candidate from Chittor constituency. Interestingly, the free medicine scheme -- the flagship scheme of the previous Ashok Gehlot government was his brainchild.
A little ahead of the Congress declaring its manifesto for Lok Sabha 2014, when they announced that they will give right to treatment to people of India, this correspondent was taking to Gupta, who maintained, "The right to treatment was our brainchild and we had been demanding for its implementation for long. But I don't know why it took them so long to implement."
Another prominent doctor, in AAP's list is Virendra Singh, former medical superintendent of the Sawai Man Singh in Jaipur. The records say that in 2013, the hospital registered more patients than the All India Institute of Medical Science in Delhi and Singh can boast that it was during his tenure that the SMS stands on par with the AIIMS.
The two other doctors are- Surendra Poonia and BK Panwar. Poonia is a former Indian Army major. He is contesting from the Sikar constituency, while Panwar is contesting from the Ganganagar seat.
Mangilal Gaur who has been fielded by the party from Barmer is a former judge, while N S Dangawas, the Jhalawar constituency candidate is an ex-DGP of the BSF. Raj Kadyan, the Jhunjhu candidate is a former lieutenant general, and P S Bhatnagar from Rajsamand constituency was a colonel. Ajmer's candidate Ajay Somani and Pali's Mahesh Bhandari are both charted accountants.
Besides them, there are four PhD degree holders -- Virendra Vidrohi (Alwar), Velaram Meena (Udaipur), Gaurishankar Dabi (Bikaner) and Vigyan Modi (Jodhpur). The Nagaur candidate Hanuman Ram Choudhary is an engineer.
However, unlike other states where renowned journalists are contesting as AAP candidates, there is not a single journalist fielded by the party here.
"The AAP has started honest and clean politics and people of Rajasthan are also realising how different we are from the conventional political parties. They might come from professional backgrounds but most candidates are doing 10 meetings a day with gatherings of around 100 people each. Door-to-door campaigning by well-trained cadres is visible in most of constituencies," claimed AAP spokesperson Mulkraj Anand.
There are 25 parliamentary constituencies in Rajasthan, and until now, a bipolar contest has been taking place between the Congress and the Bharatiya Janata Party. On May 16, it will be interesting to see how many AAP candidates taste success in reaching parliament.