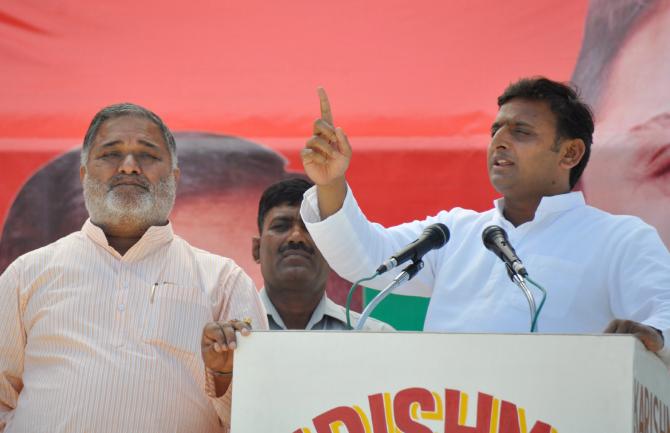 Sharply divided maulanas appear to have paved way for a smooth sailing for Bharatiya Janata Party nominee Santosh Kumar Gangwar in Bareilly.
Interestingly, however, unlike the past when Gangwar won six Lok Sabha elections from here, this time his support is coming in the name of Narendra Modi. UP Chief Minister Akhilesh Yadav chose to attack the BJP PM nominee during his rally in this constituency on Wednesday afternoon.
Gangwar had lost the last parliamentary poll in 2009 to Congress candidate Praveen Singh Aron, who not only lost much goodwill over the past five years but also lost the backing of the city's most famous Islamic cleric Maulana Tauqeer Raza Khan.
Tauqeer has now thrown his weight behind the Bahujan Sanaj Party nominee Umesh Gautam, who is bound to dig deep into the Muslim vote bank, otherwise shared between the SP and the Congress. Tauqeer's proximity to Gangwar is an open secret. Therefore his sudden appeal for the BSP is being viewed as a conspiracy to divide the Muslim vote.
Another section of Muslims who find solace in the highly rated 'dargah' of Ala Hazrat, are totally opposed to Tauqeer, who has shifted political loyalties three times in the past four years.
Samajwadi Party nominee Ayesha Islam, who is the daughter-in-law of former MP Islam Sabir, is a staunch follower of Dargah Ala Hazrat. While this sect of Muslims have preferred the SP to other political parties through the years, it were Tauqeer's shifting loyalties that often determine the fate of candidates in Bareilly.
In his bid to give boost to Ayesha, Akhilesh made it a point to fly down here to address a fairly good rally. However, he remained careful enough not to tread upon the path of Tauqeer who ditched the SP at the eleventh hour even after party supremo Mulayam Singh Yadav had extended a very special favour to him by granting him status of a minister in the Akhilesh government, a privilege he continues to enjoy.
The UP chief minister chose to train his guns only at Modi. "Narendra Modi' s achievements in Gujarat have been hyped beyond proportion; as a matter of fact, what the SP government has done in UP is far ahead of the Gujarat government which just cannot match us on any parameter," Akhilesh told the enthusiastic crowd at the Bishop Mandal Intermediate College grounds.
Terming Modi as an 'event manager', he said, "other than a lot of nautanki (drama) Modi has very little content."
He went on to say, "Can he think of giving even a fraction of what we have done in UP? We have given 15 lakh laptops, special scholarship to girls, unemployment allowance, old age pensions besides several other welfare schemes for the former and the poor."
And before flying off to his next destination in the neighboring Aonla constituency, he took another dig at Modi. "The BJP 's prime ministerial nominee may be busy projecting himself as the ultimate but fact remains that he is a totally dishonest man who thrives on falsehood. Even on the issue of providing lions for a lion safari that we are developing in the ravines of Chambal, Modi has deceived us; as against his commitment to provide ten lions from the Gir forest, the Gujarat government has sent only six. Never mind, we will keep the Gujarat lions caged in Chambal," he quipped.
Image: Akilesh Yadav attacked Narendra Modi at a rally in the constituency on Wednesday.