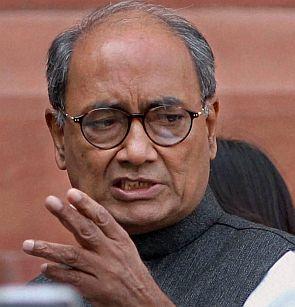 Both Congress chief Sonia Gandhi and Vice President Rahul should have contested from Telangana.

The party should have forged an alliance with K Chandrasekara Rao-led Telangana Rashtra Samithi.

In a confidential report presented to the party high command, Congress leaders from Telanagana analyse the poll debacle. Vicky Nanjappa reports
The Congress is in introspection mode after its poll debacle in the recently concluded Lok Sabha elections, especially in the newly carved state of Telangana.
In a confidential report sent to the Congress high command, leaders from Telangana blame Digvijaya Singh, in-charge of the party affairs in Andhra Pradesh. Over confidence, failing to enter into an alliance and giving away the edge to the K Chandrasekara Rao-led Telangana Rashtra Samithi during campaigning led to their defeat, they said Digvijaya had the wrong attitude, Congress leaders Madhu Goud Yaskhi, Ponnam Prabhakar Goud, G Vivekanand said in their report to the party top brass and also during a discussion.
Digvijaya failed to forge an alliance with the TRS. K Chandrasekara Rao had sought the post of the chief minister, but Digvijaya distanced him by saying that the Congress would decide on a chief minister only after the election results were out.
Prior to the polls, KCR was worried about the future of his party and had sought an alliance. However, Digvijaya and other leaders were adamant on a merger. Hence, the TRS chief decided to go it alone, sources told rediff.com.
The Congress's other blunder was to rope in M Vijayashanthi, then a TRS MP. This angered KCR and he took the issue to the voter accusing the Congress of trying to break up the party (TRS) that fought for statehood, leaders told the high command.
Digvijaya and Telangana Congress chief Ponnala Lakshmaiah have also been blamed for not handling party president Sonia Gandhi's campaign properly. "They should have insisted that she should have started campaigning early. By the time she held a rally in Telangana it was too late," Congress leaders complained.
Two weeks before the polls, she was considered the mother of Telangana. She should have visited the region soon after the Telangana Bill was passed.
Neither she nor Congress Vice President Rahul visited. Digvijaya should have insisted they did, the local leadership felt.
Many of them were of the view that Rahul and Sonia should have contested a seat each from Telangana. This also worked in favour of the TRS. KCR convinced the voters that unlike the Congress high command, he and his party were there to stay and would ensure development of the new state.

The leaders also complained that the delayed manifesto and also the lack of coordination in the selection of candidates led to the Congress' failure in Telangana.

Image: Digvijaya Singh is in-charge of Congress' affairs in Andhra Pradesh