Congress vice-president Rahul Gandhi has said the party cannot afford the spectacle of its ministers and state presidents running away from a tough contest. Anita Katyal reports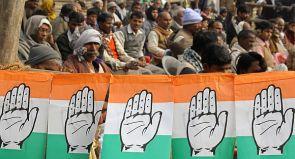 Barring a few exceptions, the Congress leadership has put its foot down and disallowed its leaders from shifting from their old constituencies to safer seats.
Cricketer-turned-politician Mohammad Azharuddin has been moved from Moradabad in Uttar Pradesh to Tonk-Sawai Madhopur in Rajasthan, All India Congress Committee General Secretary C P Joshi has been shifted from Bhilwara to Jaipur Rural, but others, including ministers and state unit presidents, have been told by Congress vice-president Rahul Gandhi in no uncertain terms that they must contest from their old constituencies.
It was pointed out that the party could not afford the spectacle of its ministers and state presidents running away from a tough contest. "You cannot run away after enjoying the fruits of power. You have to fight it out," they were told.
The party's firm resolve was evident from the third list of 58 Lok Sabha candidates announced by the Congress on Tuesday night. The suspense over sitting Pune MP Suresh Kalmadi also ended when his name did not figure among these names. The scam-tainted Kalmadi has been replaced by Maharashtra Youth Congress chief Vishwajeet Kadam, son of state forest minister Patangrao Kadam. There is no clarity about the candidature of former Maharashtra chief minister Ashok Chavan, who had to step down after he was named in the Adarsh Housing Society scandal.
As per Rahul Gandhi's diktat, Corporate Affairs Minister and president of Rajasthan Pradesh Congress Committee Sachin Pilot has been fielded from Ajmer, the seat he won in the 2009 Lok Sabha polls. Pilot had been keen on moving to Tonk or Bhilwara as he is not confident about winning from his old constituency.
Despite her strenuous efforts, culture minister Chandresh Kumari has not been allowed to shift from her present seat Jodhpur to Kangra in Himachal Pradesh. She has been nominated from Jodhpur once again. The nervousness in the Congress camp is expected given the party's crushing defeat in the last year's Rajasthan assembly elections.
Similarly, the newly-appointed president of Haryana Pradesh Congress Committee Ashok Tanwar has been renominated from his old seat Sirsa although he wanted to shift to nearby Ambala, which fell vacant after sitting MP Kumari Selja moved to the Rajya Sabha. Tanwar was keen on the Ambala seat as he calculated that the substantial number of Valmikis in this constituency would make it easier for him to win from here. The Ambala seat has gone to Raj Kumar Valmiki.
It was the same story in Punjab where the state unit president Partap Singh Bajwa, who represents Gurdaspur, was keen on sitting out this election. He was pressing the leadership to give the seat to his wife or brother on the plea that he wanted to be left free to manage the party's election campaign in the state. However, this argument did not cut ice with the Congress leadership, which turned down his request. Bajwa could face his old rival from the Bharatiya Janata Party, actor-turned-politician Vinod Khanna, who had lost to the Congress in the 2009 Lok Sabha polls.
The Congress finds itself on a sticky wicket in both Punjab and Haryana. While bitter infighting has taken a toll in Punjab, the party faces strong anti-incumbency in Haryana.
Fertilisers minister Srikant Jena, sitting MP from Balasore, kept changing his seat preferences periodically as he was essentially not keen on contesting the election. However, he has not been given any choice in the matter. The Congress faces an uphill task in Odisha as Biju Janata Dal's Naveen Patnaik is firmly ensconced here.
In Delhi, 5 of the 7 sitting MPs have been named again. These include Kapil Sibal from Chandni Chowk, Sandeep Dikshit from East Delhi, Ajay Maken from New Delhi, Kirshna Tirath from the reserved seat of North West Delhi and Jai Prakash Aggarwal from North East Delhi. While Sibal is pitted against Ashutosh of the Aam Admi Party and Harshvardhan from the BJP, who was also projected as the party's chief minister in last year's Delhi assembly polls. The fate of two other sitting MPs -- Mahabal Mishra from South West Delhi and Ramesh Kumar from South Delhi -- hangs in balance as the names for these two constituencies was not announced on Tuesday.
Relatives of leaders also figure in Tuesday's list. Ajay Singh, son of late Congress leader Arjun Singh, has been fielded from his father's constituency Satna in Madhya Pradesh. Former Karnataka Congress chief R V Deshpande's son Prashant Deshpande has been nominated from the Uttara Kannada seat. Prashant is the son-in-law of Union minister and Nationalist Congress Party leader Praful Patel.
Former Chhattisgarh chief minister Ajit Jogi will contest from Mahasamund although he had been keen on the Kanker seat.
Image: Congress supporters sit next flags of party's logo as they attend an election campaign rally addressed by Rahul Gandhi in Gorakhpur
Photographs: Pawan Kumar/Reuters