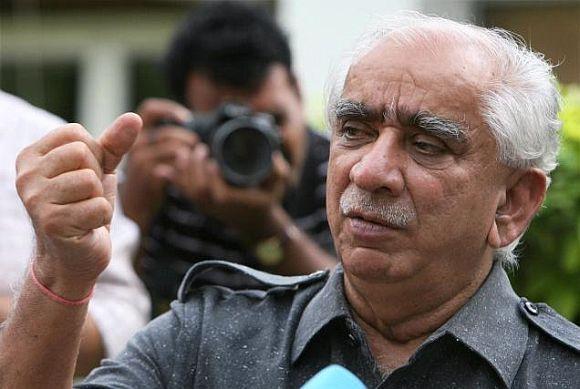 The Bharatiya Janata Party on Friday snubbed senior leader Jaswant Singh by denying him a ticket in the Lok Sabha elections in Rajasthan and instead decided to field Col Sonaram Choudhary in Barmer, which Singh was seeking.
The denial of ticket to Singh, who is considered close to L K Advani, comes a day after the party patriarch was virtually forced to choose the Gandhinagar seat in Gujarat, against his wishes to contest from Bhopal in Madhya Pradesh.

There is speculation that Singh might contest as an independent but there was no confirmation. Choudhary had recently defected from the Congress.
Singh (76), currently a Lok Sabha member from Darjeeling, sought a ticket from Barmer, saying this was his last election and would like to contest it from his home.
The former Union Minister, who has held the portfolios of Finance, Defence and External Affairs during the NDA regime, has had his share of problems with the party ever since he wrote a book on his visit to Pakistan praising its founder-leader Mohammad Ali Jinnah.
The book was banned in Gujarat following some adverse references to Sardar Patel and he was expelled from the party briefly after the controversy over the book.
Singh was also the Leader of Opposition in the Rajya Sabha from 2004 to 2009. He was also the NDA candidate for the Vice President's post in 2012.
The changing power equations in Rajasthan, with Vasundhara Raje registering a thumping victory in the assembly elections, have apparently forced the party to deny him the ticket and give it to Choudhary, a jat leader from the area.
The BJP declared three other seats in Rajasthan, where Manoj Rajoriya was given the party ticket from Karauli-Dholpur (SC) seat, Sanwarmal Jat from Ajmer, who will contest against Sachin Pilot of Congress and P P Choudhary from Pali Lok Sabha seat.