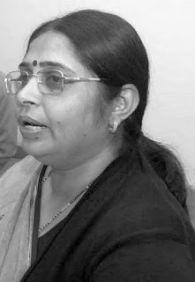 Bihar Industry and Disaster Management minister Renu Kumari Kushwaha on Monday evening resigned from Chief Minister Nitish Kumar's cabinet and the Janata Dal-United party. Kushwaha is set to contest the Lok Sabha polls from Khagaria seat as a Lok Janshakti Party nominee. LJP has joined hands with the Bharatiaya Janata Party in Bihar.
A JD-U leader close to her said that Renu Kumari Kushwaha has sent her resignation to the chief minister. "She has resigned from Nitish Kumar's cabinet," he said.
Her husband, Vijay Kumar Singh, joined the BJP on Monday afternoon in the presence of BJP's prime ministerial candidate Narendra Modi during his visit to Purnea district.
Renu Kushwaha is the second minister to resign from the cabinet within a month.
Last month, Bihar's first Muslim woman minister Perween Amanullah resigned from the party.
Amanullah later joined the Aam Aadmi Party and has been actively campaigning for it.
Amanullah is the daughter of diplomat-turned-politician Syed Shahabuddin -- the convenor of the Babri Masjid Movement Coordination Committee -- and wife of senior IAS officer, Afzal Amanullah.
Image: Former Bihar Industry and Disaster Management minister Renu Kumari Kushwaha